This budget-friendly, nutritious, and delicious Red and Green Cabbage Salad is an excellent addition to any healthy meal. It keeps well in the fridge, so you can make it ahead and enjoy it for a few days.
This salad recipe is dairy-free and vegan.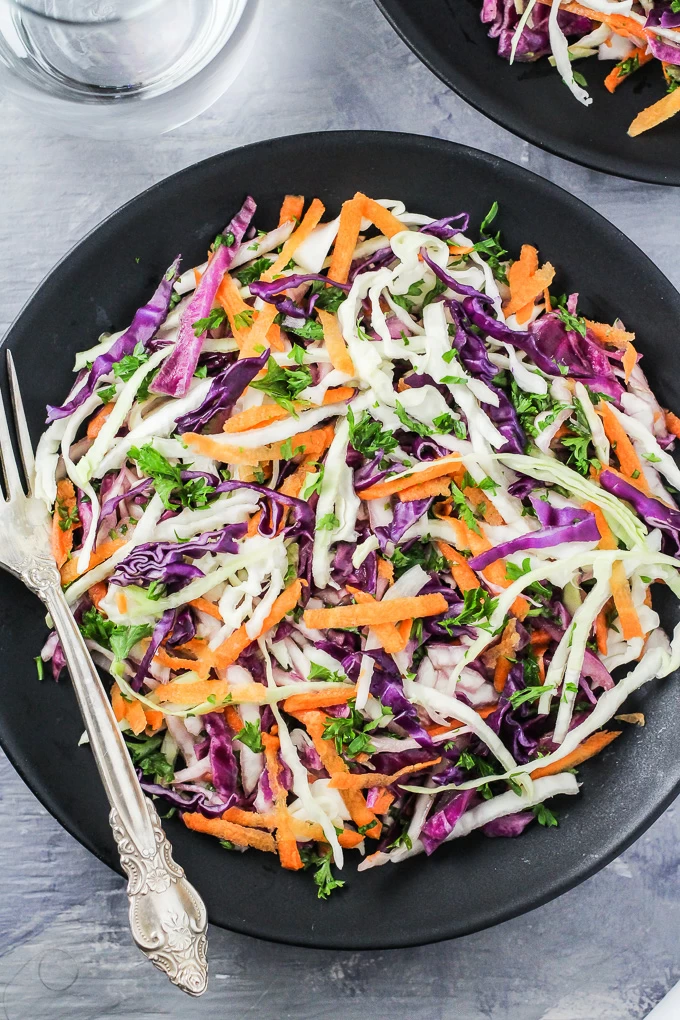 If cabbage isn't one of your favorite vegetables, this cabbage salad is here to change that.
This simple recipe is my favorite way to make raw cabbage taste amazing, and it only takes a few minutes to throw together.
I'm not sure I could make this recipe any easier, even if I tried. All you'll have to do is toss shredded red and green cabbage, julienned carrots, herbs, and a simple vinaigrette together, and that's it!
Make a big batch to keep in the fridge, and you'll have a delicious serving of flavorful raw vegetables to enjoy for a few days.
Benefits of Raw Cabbage
You should also incorporate cabbage into your diet because:
Raw cabbage is low in calories and incredibly nutritious.
It stays fresh for a long time. If stored properly, raw heads of cabbage will keep in the fridge for about 2 months.
It's budget-friendly. Cabbage is very inexpensive, and a little bit stretches a long way. Depending on the size, one head of cabbage can feed 3 to 4 people.
Ingredient Notes
Here is a brief overview of the ingredients you'll need to make this salad:
Cabbage: While you can use one or the other, a blend of red (also known as purple) and green cabbage makes this salad POP. To make things easier, use a pre-shredded cabbage or coleslaw blend.
Carrots: Sweet and crisp carrots pair perfectly with cabbage and add a boost of color and nutrients to the salad.
Sugar: You'll need a little bit of sugar to massage and tenderize the cabbage. If you want to make it without refined sugar, use coconut sugar instead of granulated.
Fresh Parsley: Herbs enhance the natural flavors of the fresh veggies. Use interchangeably with cilantro, dill, and basil, or use some of each.
Olive Oil: Extra virgin olive oil adds moisture and lightly dresses the salad.
White Vinegar: If you use a different vinegar, such as apple cider, balsamic, or red wine, the taste will be different but delicious regardless. You can also add freshly squeezed lime or lemon juice to this salad for a more fresh citrusy flavor.
Salt: Seasoning raw salads adds flavor and the slightest bit of texture. I recommend using kosher or sea salt.
How To Make Red and Green Cabbage Salad
These easy-to-follow instructions will show you how to make the best raw salad with red and green cabbage:
Tenderize the cabbage: Place your shredded cabbage in a large bowl and sprinkle with sugar. With your hands, massage the shreds for 30 seconds to a minute.
Toss the salad: Add the carrots, parsley, olive oil, and vinegar. Season with salt and toss to combine.
Chill the salad: Let your salad chill in the fridge for at least an hour before serving. Serve cold or at room temperature.
Recipe Tips
Here are a few tips to help you make this recipe:
When choosing your cabbage, it's okay if the heads aren't aesthetically perfect. You can cut out any blemishes or bruises before slicing.
Make sure to massage the shredded cabbage with your hands before making the salad. Massaging the cabbage helps to break down the fibers and makes the cabbage easier to chew and digest.
Don't skip refrigerating! Cabbage salad tastes the best when the flavors have time to develop. If you can let it chill overnight, even better!
How to Shred Cabbage for a Salad
The first step is removing the wilted outer leaves and the core.
Then, with a sharp knife, slice down the middle of the head through the core and slice each half down the middle into 4 wedges. Cut away the core from each wedge.
From this point, there are a few ways you can finish shredding your cabbage:
Sharp knife – Make thin slices down the horizontal edge of each wedge.
Vegetable peeler/spiralizer – Run the cut end of each wedge across a vegetable peeler or through a spiralizer.
Mandolin – With the cut side of the wedge facing down, carefully use the blade to slice into thin strips.
Variations & Mix-ins
Feel free to customize your salad with more veggies and mix-ins like:
Green Onion
Apple
Edamame
Turnips
Radish
Bell Pepper
Toasted Nuts (almonds, walnuts, or pistachios)
Toasted Seeds (flaxseeds, pumpkin, sunflower, or hemp)
Serving
This light and refreshing salad pairs perfectly with a variety of mains:
Make it a meal and serve with chicken or seafood. It's also great as a side salad with warm and hearty homemade soup like ground turkey soup, chicken vegetable soup, or quinoa chili.
Add a spoonful to your favorite rice and quinoa bowls.
Use red and green cabbage salad wherever you'd usually use coleslaw. It's great on sandwiches and in shrimp and fish tacos.
Storing
Keep your cabbage salad in an airtight container and refrigerate for 3 to 4 days. Freezing is not recommended.
Frequently Asked Questions
What is the best way to store leftover cut raw cabbage?
Whole cabbage heads will last in the fridge for up to 2 months. Once cut, it begins to spoil much quicker. If you have a piece of cut cabbage, you can wrap it in plastic and keep it in the fridge for 2 to 3 days.
What type of cabbage is best for salads?
The four most popular types of cabbage are red, green, savoy, and Nappa. Red and green are most commonly served raw in salads. However, thinly sliced savoy and Nappa cabbage taste great shredded and made into salads and coleslaw.
Red and Green Cabbage Salad
This raw cabbage salad is delicious, budget-friendly, nutritious, and very easy to make. It's a perfect side salad for almost any meal and keeps well in the fridge for a couple of days. Made with simple ingredients.
Ingredients
1/3 medium red cabbage, shredded
1/3 medium green cabbage, shredded
2 medium carrots, grated
½ cup fresh parsley, chopped
½ Tbsp coconut sugar or regular white sugar
2 Tbsp olive oil
3 Tbsp white vinegar
salt to taste
Instructions
Place the green and red cabbage in a large bowl and sprinkle with sugar. Massage the cabbage with your hands for about 30 seconds to one minute. This will help to break down the fibers and make the cabbage easier to chew and digest.
Add the carrots, parsley, olive oil, and white vinegar. Season with salt and toss to combine. Refrigerate the salad for at least one hour before serving.
Notes
1. This salad keeps well in the fridge for up to 4 days.
Nutrition Information
Yield

5
Serving Size

1/5 of recipe
Amount Per Serving
Calories

67
Total Fat

5.5g
Saturated Fat

0.8g
Trans Fat

0g
Unsaturated Fat

4.6g
Cholesterol

0mg
Sodium

79.3mg
Carbohydrates

4.2g
Fiber

1g
Sugar

2.6g
Protein

0.4g
Nutrition facts provided on this website are an estimate and not guaranteed to be accurate. Please see a qualified health care provider for personalized diet advice and make sure that each of the ingredients is allowed in your diet.