This potato salad with avocado is made with small baby potatoes, radishes, snow peas, cherry tomatoes, and avocado. It's super creamy and very filling.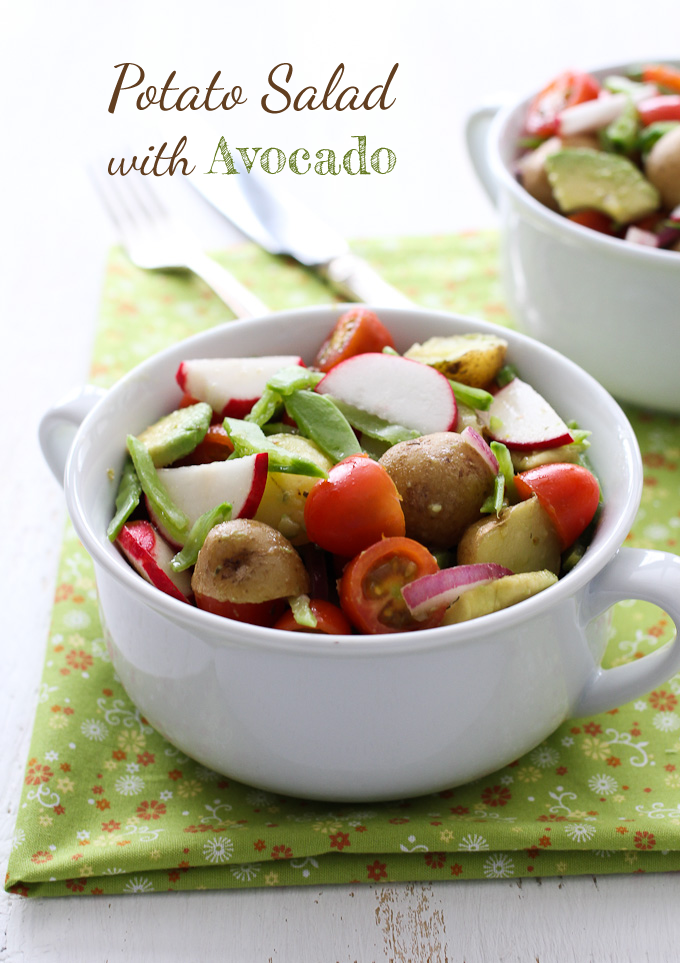 I wish I could start this post with a pretty picture of spring flowers and a short story about how much we are enjoying the spring weather.
I mean, yes, it feels like spring when the sun manages to peek through the clouds and it's light outside up until 8 pm. But we still haven't put away our winter clothing and most of us haven't been brave enough to change winter tires.
To make it a little bit more spring-like here on the blog, I decided to share with you this Potato Salad with Avocado recipe. The pictures turned out so light and fresh with so many shades of green and I thought they are a perfect reminder that the warm days are near.
If you are eating low GI, you are probably careful about potatoes. It's true that baked and mashed potatoes are very high GI. Small baby potatoes, on the other hand, are medium GI and can be enjoyed as a side dish or in a salad.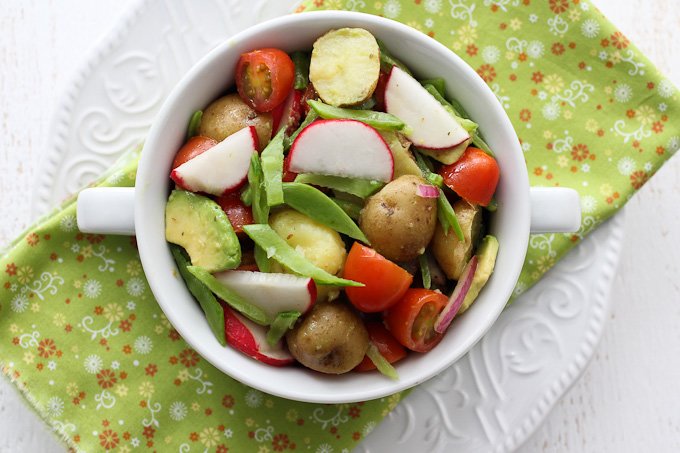 For more ways of making potato salad without mayo, check out this Potato Cucumber Salad, this Potato Salad with Asparagus, and this New Potato Salad with Tomatoes and Dill.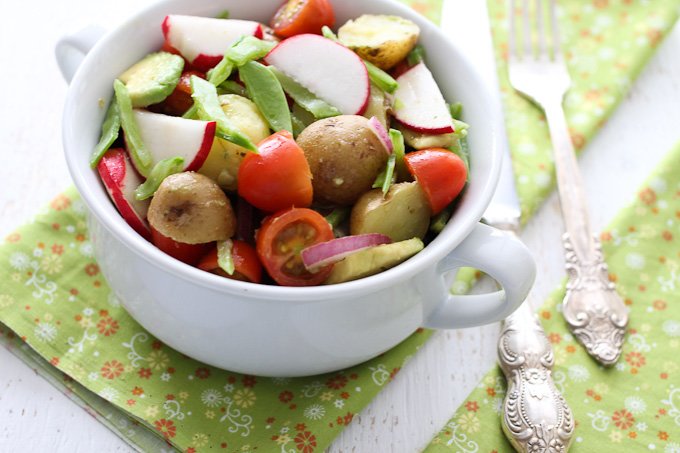 Potato Salad with Avocado
This Potato Salad with Avocado is a great alternative to the traditional potato salad. It's made with crunchy radishes and creamy avocado. Super yummy and healthy!
Ingredients
1 pound baby potatoes
1/4 red onion, thinly sliced
1 1/2 cup snow peas, thinly sliced
7 radishes, chopped
2 cups cherry tomatoes, halved
2 small or 1 large avocado, sliced into bite-size pieces
juice of 1/2 lemon
For the dressing:
3 Tbsp olive oil
2 Tbsp red wine or balsamic vinegar
1/2 tsp salt
1 tsp dried oregano
Instructions
Rinse the baby potatoes under cool running water. If needed, brush them with a vegetable brush to remove excess dirt. Place the potatoes in a medium saucepan and add cold water just enough to cover. Over medium-high heat, bring the potatoes to a boil and cook uncovered until the potatoes can be easily pierced with a fork for about 10 to 13 minutes. Carefully drain the potatoes and let them cool.
Once the potatoes are cool, slice each potato in half and place into a large salad bowl.
Add the onion, snow peas, radishes and cherry tomatoes.
Pour the lemon juice over avocado slices making sure the slices are evenly covered with the juice. Add the avocado slices to the rest of the vegetables. See the Notes.
To make the dressing, mix the olive oil, vinegar, salt and dried oregano in a small bowl and pour over the vegetables. Carefully mix to combine.
Notes
1. Because avocado oxidizes quite quickly it might turn an unpleasant dark color if you keep this salad in the fridge overnight. If you want to prepare this salad in advance, do not add the avocado and dressing to the rest of the veggies and keep them separately in the fridge until you are ready to serve.
Recommended Products
As an Amazon Associate, I earn from qualifying purchases.
Nutrition Information
Yield

4
Serving Size

1/4 recipe
Amount Per Serving
Calories

315.3
Total Fat

18.2g
Saturated Fat

3g
Trans Fat

0g
Unsaturated Fat

15.2g
Cholesterol

0mg
Sodium

324.8mg
Carbohydrates

36.2g
Fiber

9.8g
Sugar

9g
Protein

5.7g
Nutrition facts provided on this website are an estimate and not guaranteed to be accurate. Please see a qualified health care provider for personalized diet advice and make sure that each of the ingredients is allowed in your diet.