This potato cucumber salad is absolutely perfect for spring, summer, and early fall. It's great for weeknight dinners because it's super fast and easy to make and it's also perfect for BBQ parties and gatherings.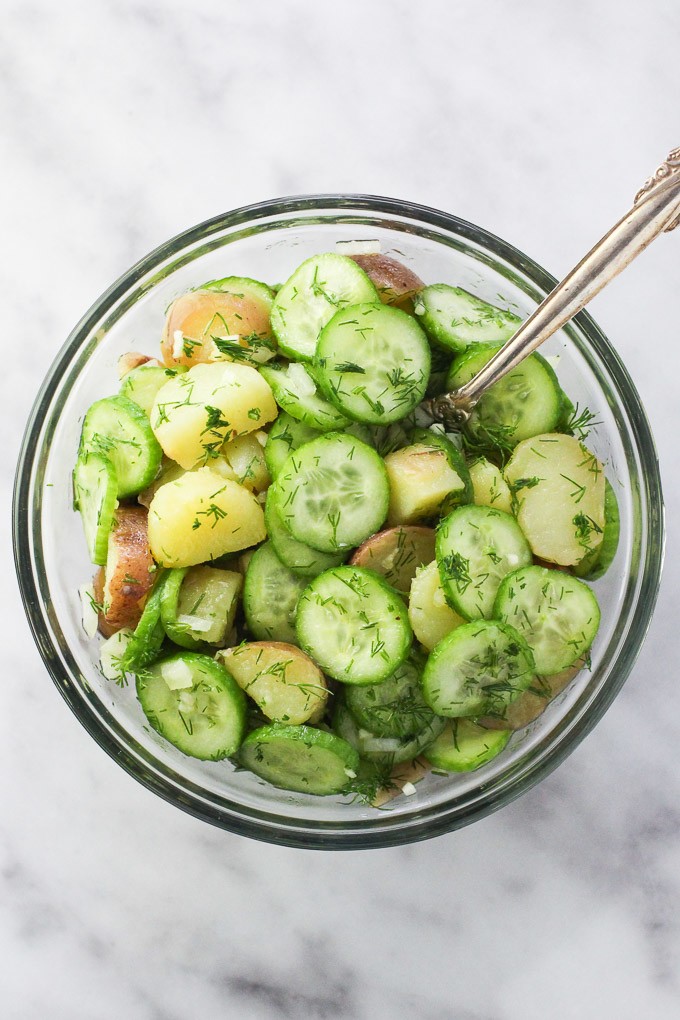 The best part is that to make this salad you only need a few budget-friendly ingredients: small baby potatoes, cucumbers, dill, onion, garlic, white vinegar, and olive oil.
This potato cucumber salad tastes best when it's fresh. But you can boil the potatoes in advance. In fact, the potatoes taste better and also have a better texture the next day because they become a bit firmer overnight and don't fall apart in the salad. Also, try to not overcook them.
How to Make Potato Cucumber Salad in 5 Easy Steps
Step 1.
Wash the cucumbers and pat them dry with a paper towel. Slice the cucumbers using a knife or mandoline slicer and place them in a bowl. Generously salt them making sure to mix a few times so that the cucumber slices at the bottom are also salted. This will help to remove the excess moisture from the cucumbers.
Step 2.
Slice the cooked small potatoes into bite-sized pieces. I usually leave the skin on but sometimes the skin will separate so I just pull off the loose piece but leave the rest. Place the potatoes into a large salad bowl.
Step 3.
Chop the onion, dill, and garlic and add them to the potatoes.
Step 4.
Transfer the cucumbers into a mesh colander and shake off the excess water. Then add them to potatoes.
Step 5.
Add the white vinegar and olive oil. Season with salt and pepper. Make sure to taste the salad before you salt it because the cucumbers will be already somewhat salty. Toss everything to combine and chill in the fridge for 30 minutes before serving.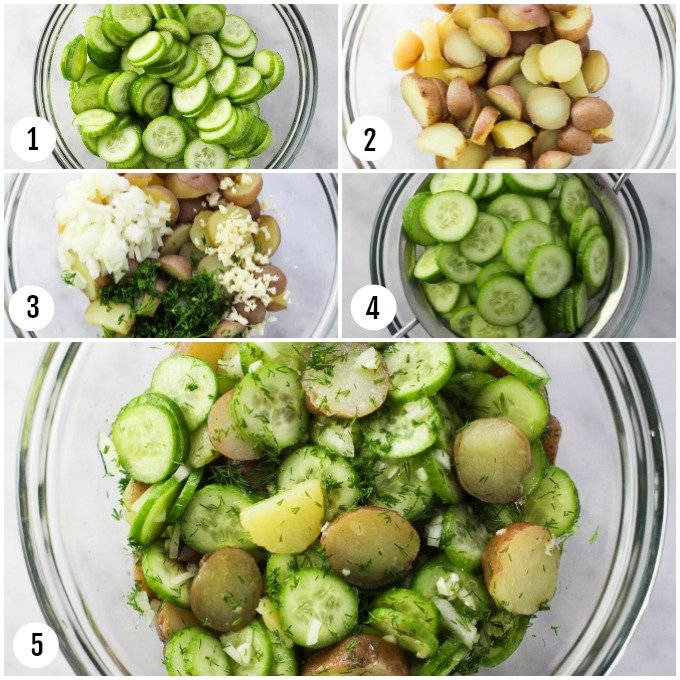 If you are looking for more healthy potato salad recipes, check out this
Potato Salad with Avocado
and this
Potato Salad with Asparagus
.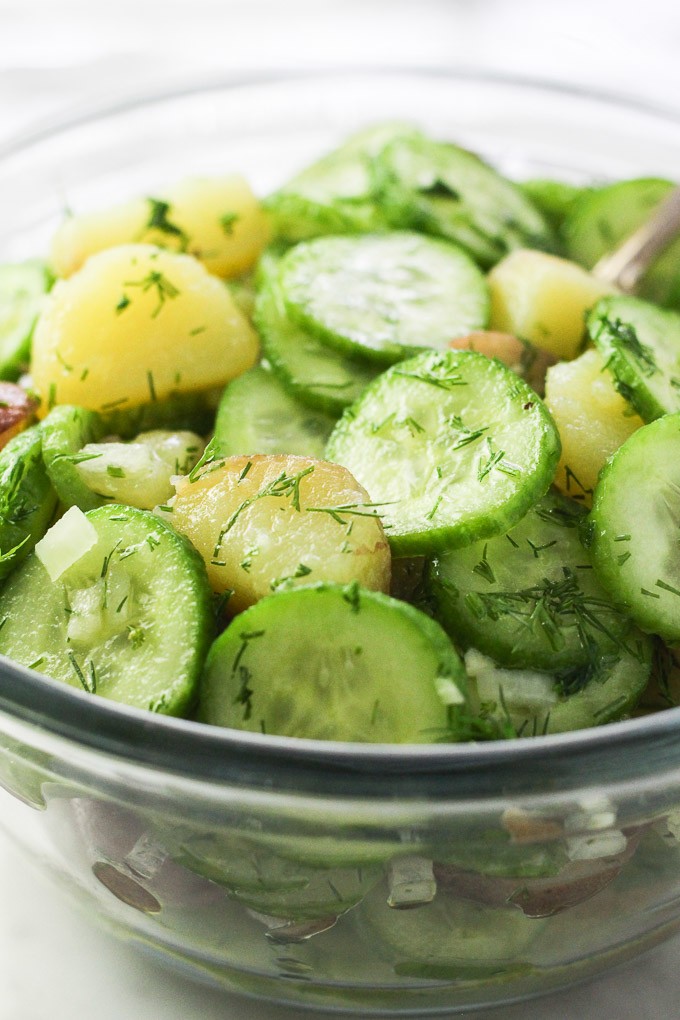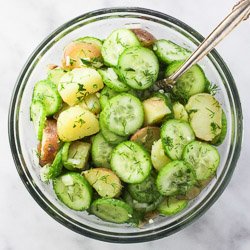 Potato Cucumber Salad with Dill and Garlic
This potato cucumber salad with dill and garlic is very easy to make and perfect for a weeknight dinner or a party. It's a great alternative to the traditional potato salad because it's dairy-free and made with no mayo.
Ingredients
1 to 1.5 pounds baby potatoes, boiled
1 pound cucumbers (small field cucumbers are preferred), thinly sliced
1/3 medium onion, thinly sliced
2 garlic cloves, minced
a generous handful fresh dill, chopped
4 Tbsp white vinegar
3 Tbsp olive oil
salt and pepper to taste
Instructions
To cook the baby potatoes, first thoroughly wash them under running water making sure all dirt is removed, scrub with a brush if necessary. Then place them in a saucepan and add water so that they are covered by about 2 inches. Place the saucepan on the stove and bring the water to a boil over medium-high heat. Reduce the heat and cook the potatoes until you can easily pierce them with a fork. Don't over-cook because they will fall apart in the salad if they are too soft. Take the potatoes out of the water and let them cool completely.
Chop the cucumbers or slice them using a mandoline slicer and place in a bowl. Generously salt the cucumbers then mix and salt again. This will help to get rid of the excess moisture. Set aside for about 20 minutes.
In the meantime, slice the baby potatoes into bite-sized pieces. Place in a large bowl.
Add the onion, garlic, and dill.
Transfer the cucumbers to a mesh colander and shake off the excessive water. Add the cucumbers to the potatoes.
Add the white vinegar and olive oil. Season with salt a pepper.
Chill the salad for about 30 minutes before serving.
Notes
This potato cucumber salad tastes best freshly prepared so it's better to consume it right away.
Recommended Products
As an Amazon Associate, I earn from qualifying purchases.
Nutrition Information
Yield

4
Serving Size

1/4 of recipe
Amount Per Serving
Calories

228.3
Total Fat

13.8g
Saturated Fat

1.9g
Trans Fat

0g
Unsaturated Fat

11.9g
Cholesterol

0mg
Sodium

54mg
Carbohydrates

25.6g
Fiber

4.1g
Sugar

3.4g
Protein

2.7g
Nutrition facts provided on this website are an estimate and not guaranteed to be accurate. Please see a qualified health care provider for personalized diet advice and make sure that each of the ingredients is allowed in your diet.