This cold avocado soup is creamy and delicious. It's a perfect soup to make and eat on a hot summer day because it's super refreshing and filling at the same time. And the best part is that you don't even need to turn on the stove. Just put all the ingredients into a food processor, pulse a few times and you are done!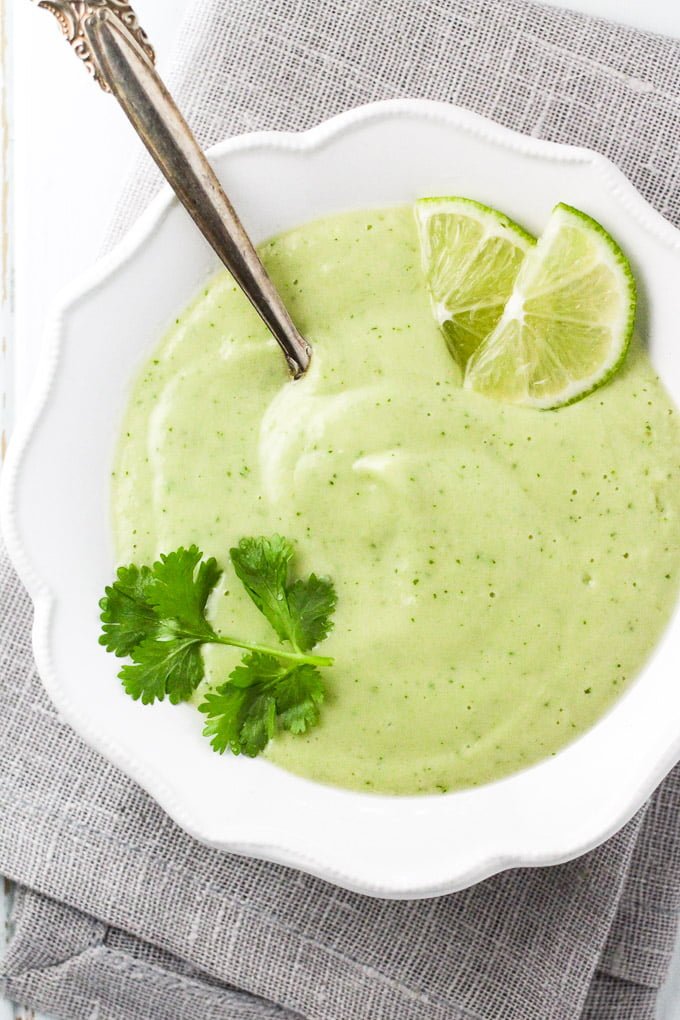 This chilled avocado soup is also very nutritious. The ingredients are not cooked so they retain most of their nutrients. For example, avocado provides some healthy fats and yogurt contains good bacteria. Cucumber, cilantro, and lime provide minerals and vitamins.
This cold avocado soup can be stored in the fridge for up to 24 hours.
To avoid browning due to oxidation, keep it in a glass container with a tight lid and sprinkle the top of the soup with additional lime juice. I find that after 24 hours it starts to change the color and loses the flavor so I try to eat within that time period.
How to Serve This Cold Avocado Soup
This soup tastes great as is and you can also make it more filling by adding some cooked chicken, fish, or shrimp to the serving. Leftover rotisserie chicken works best or you can also quickly fry a chicken breast. I like to thinly slice it first so that it cooks faster.
Fish also works well and can be quickly cooked in some olive oil or butter. But my favorite way to jazz up this soup is to add some cooked shrimp.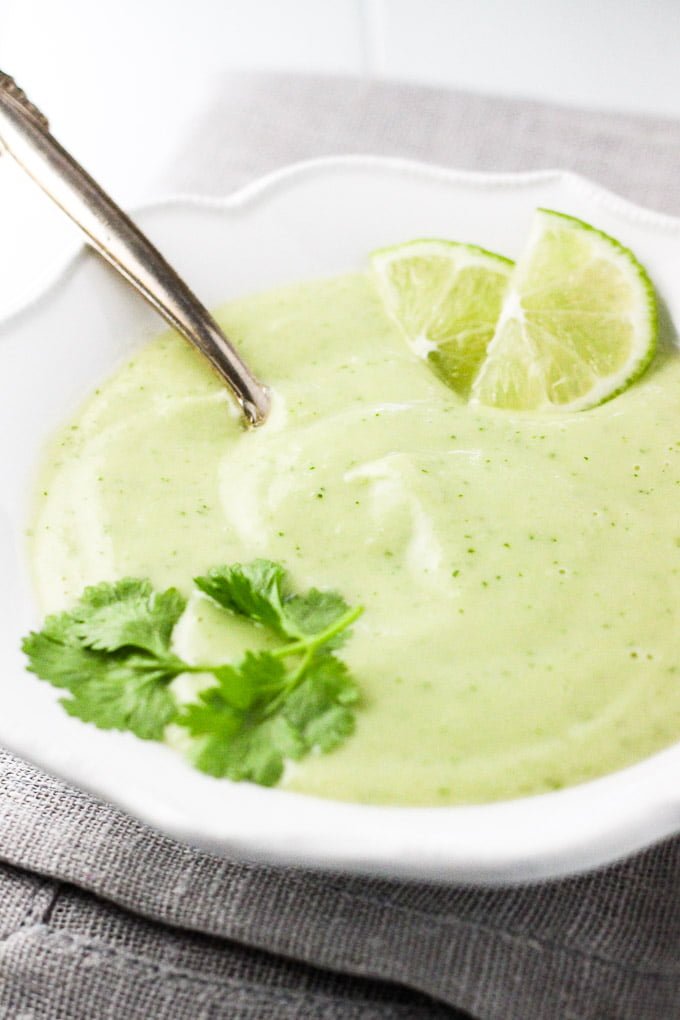 If you are looking for more healthy summer recipes, check out this Easy Sauteed Zucchini, these Vegetarian Stuffed Tomatoes, this Caprese Quinoa Bowl, and these Yogurt Marinated Chicken Kebabs. And if you are dealing with a heatwave, check out my list of healthy no-cook recipes.
Enjoy!
Yield: 4 portions
Cold Avocado Soup - Ready in 5 Minutes!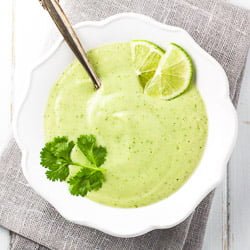 This cold avocado soup is creamy and refreshing. This recipe is very easy to make and no cooking is required. All you have to do is blend everything in a food processor and you can have it ready in just a few minutes. Absolutely perfect for hot summer days.
Ingredients
1/2 English cucumber, peeled
2 small ripe avocados (or 1 large avocado)
1 cup plain 2% yogurt
1 cup low sodium vegetable broth
2 to 2 1/2 Tbsp lime juice
1 handful of cilantro
1/2 tsp salt or to taste
1/4 tsp garlic powder
Instructions
Chop the cucumber into chunks and place it into a food processor or blender. Scoop out the avocado flesh and place it into the food processor as well. Add all the remaining ingredients - yogurt, vegetable broth, lime juice, cilantro, salt, and garlic powder.
Pulse a few times, then process until smooth. Scrape the sides with a rubber spatula if needed. This soup has a nicer mouthfeel if it's very smooth. If desired, you can also push it through a mesh strainer (I don't usually do that). Serve chilled.
Store in the fridge in a glass container with a tight lid for up to 24 hours (it will start turning brown if kept longer).
Recommended Products
As an Amazon Associate, I earn from qualifying purchases.
Nutrition Information
Yield
4 portions
Serving Size
1/4 of recipe
Amount Per Serving
Calories

144.8
Total Fat

9.8g
Saturated Fat

2.8g
Trans Fat

0g
Unsaturated Fat

7g
Cholesterol

8mg
Sodium

361.6mg
Carbohydrates

12.1g
Fiber

5.1g
Sugar

6.6g
Protein

4.6g
Nutrition facts provided on this website are an estimate and not guaranteed to be accurate. Please see a qualified health care provider for personalized diet advice and make sure that each of the ingredients is allowed in your diet.