This healthy blueberry sauce is low in added sugars and made without cornstarch. It's here to replace high glycemic jams and fruit preserves that are full of artificial colors and flavors.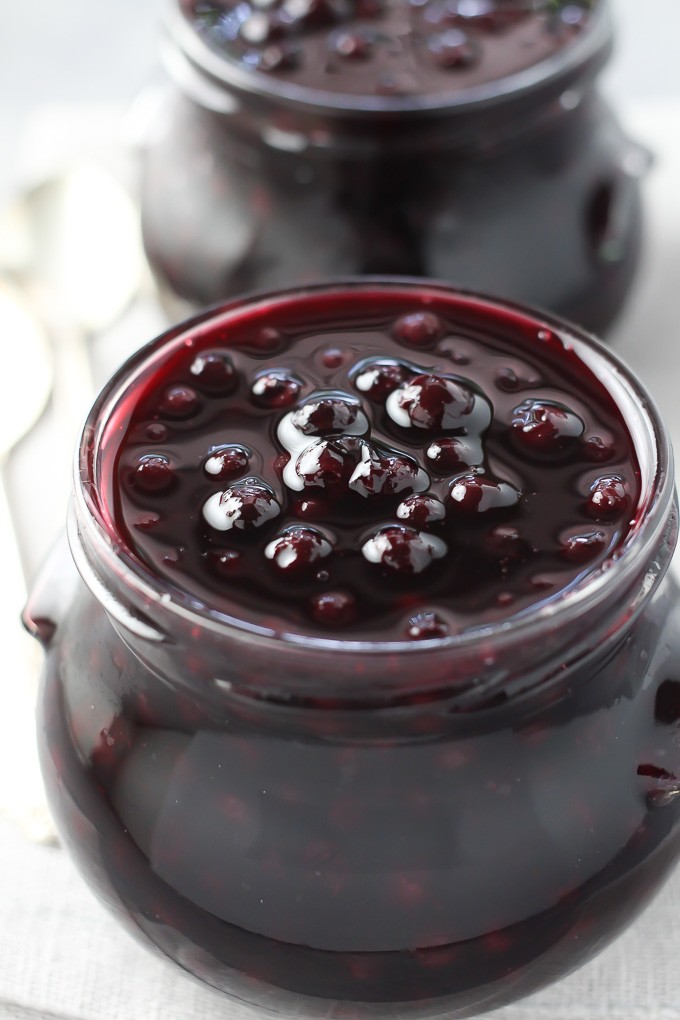 Add it to your oatmeal or pancakes in the morning, or to the unsweetened plain yogurt or cottage cheese for a snack. It will also taste great in a smoothie.
I adapted this recipe from the Easy Homemade Blueberry Sauce recipe made by Lindsey at Pinch of Yum.
I liked her idea of cooking half of the blueberries first and adding the other half at the end. When prepared this way the blueberries keep more nutrients, and not all blueberries fall apart.
I significantly reduced the amount of added sweetener.
This healthy blueberry sauce is sweetened with only one tablespoon of maple syrup. Instead of adding sugar, the natural flavor of blueberries is emphasized with cinnamon, lemon juice, vanilla extract, and a small amount of salt.
This healthy blueberry sauce is thickened with arrowroot powder which is a great alternative to cornstarch and makes this sauce smooth and silky.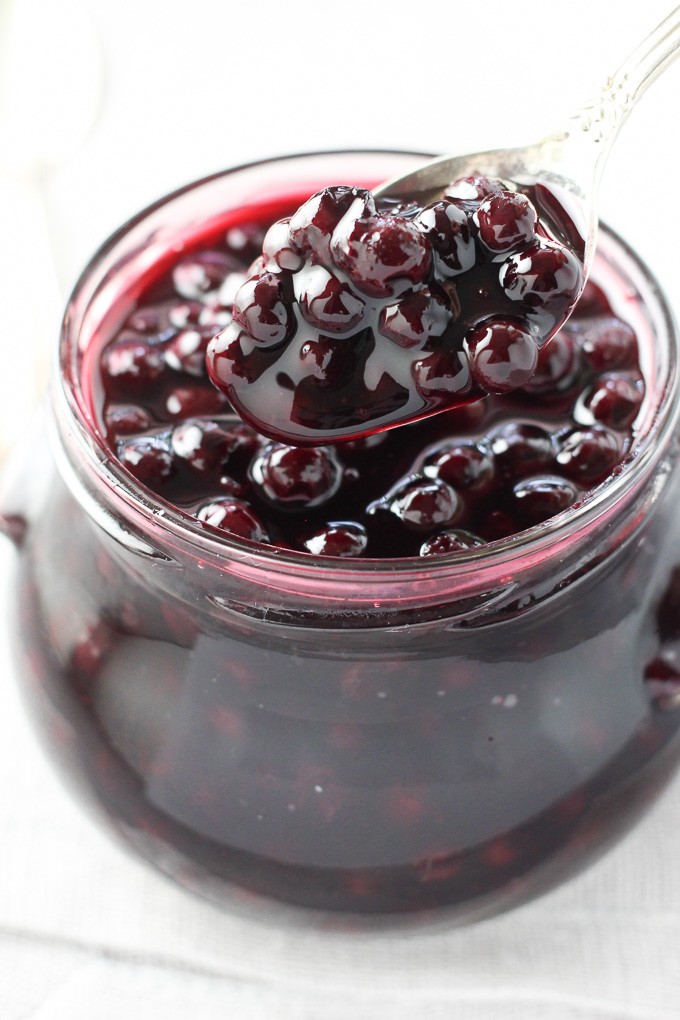 Healthy eating is not about deprivation. It's about replacing foods that make you sick with foods that taste great and are good for you.
Blueberries are at the top of the list of antioxidant-rich foods. They are full of beneficial phytochemicals, vitamins, and minerals.
Wild blueberries are smaller and have more skin than flesh. However, both the wild and the cultivated variety contain powerful nutrients. If you can't find fresh blueberries, buy frozen ones – they are just as good for you.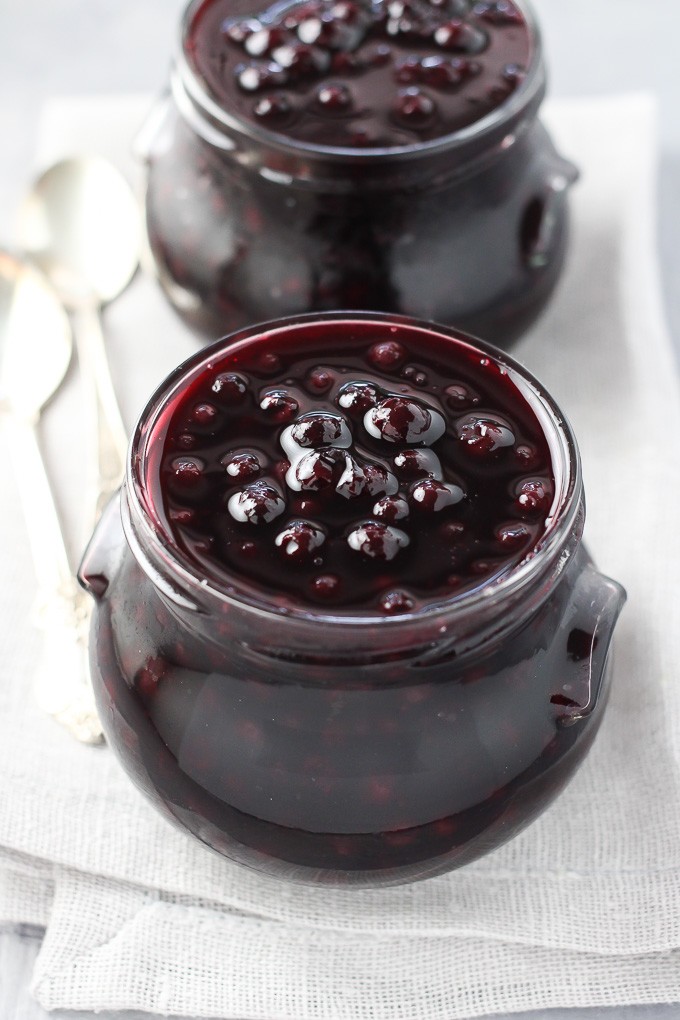 Healthy Blueberry Sauce
This healthy homemade blueberry sauce is low in added sugar and is made without cornstarch. Very easy to make. Ready in 10 minutes.
Ingredients
3 cups blueberries (fresh or frozen)
1/2 cup + 2 Tbsp water
1 Tbsp maple syrup
1/8 tsp cinnamon
1 Tbsp lemon juice
1/2 tsp vanilla extract
pinch of salt
2 1/2 tsp arrowroot powder
Instructions
Place 1 1/2 cup blueberries into a small saucepan. Add 1/2 cup of water, maple syrup, cinnamon, lemon juice, vanilla extract, and a pinch of salt. Mix and start heating the blueberries over medium heat.
In the meantime, dissolve the arrowroot powder in 2 tablespoons of water.
When the blueberries start to simmer, cook them for 1 minute stirring occasionally.
To add the dissolved arrowroot powder, pour it slowly into the saucepan making sure to constantly stir the blueberries.
Add the rest of the blueberries (1 1/2 cup). Mix and bring the sauce to a simmer. Cook for 10 more seconds and take off the heat.
Notes
1. Store in the fridge in a glass container or jar with a tight lid for up to 1 week.
Recommended Products
As an Amazon Associate, I earn from qualifying purchases.
Nutrition Information
Yield

16
Serving Size

2 tablespoons
Amount Per Serving
Calories

28
Total Fat

0.1g
Saturated Fat

0g
Trans Fat

0g
Unsaturated Fat

0.1g
Cholesterol

0mg
Sodium

25.3mg
Carbohydrates

7.1g
Fiber

0.9g
Sugar

4.7g
Protein

0.3g
Nutrition facts provided on this website are an estimate and not guaranteed to be accurate. Please see a qualified health care provider for personalized diet advice and make sure that each of the ingredients is allowed in your diet.