Do you like pancakes? I absolutely loooove pancakes. Do you know what I don't like, though? I don't like that pancakes can be very high glycemic, especially if they are made with regular white flour. And if they are soaked in fake maple syrup, oh my goodness, don't even get me started!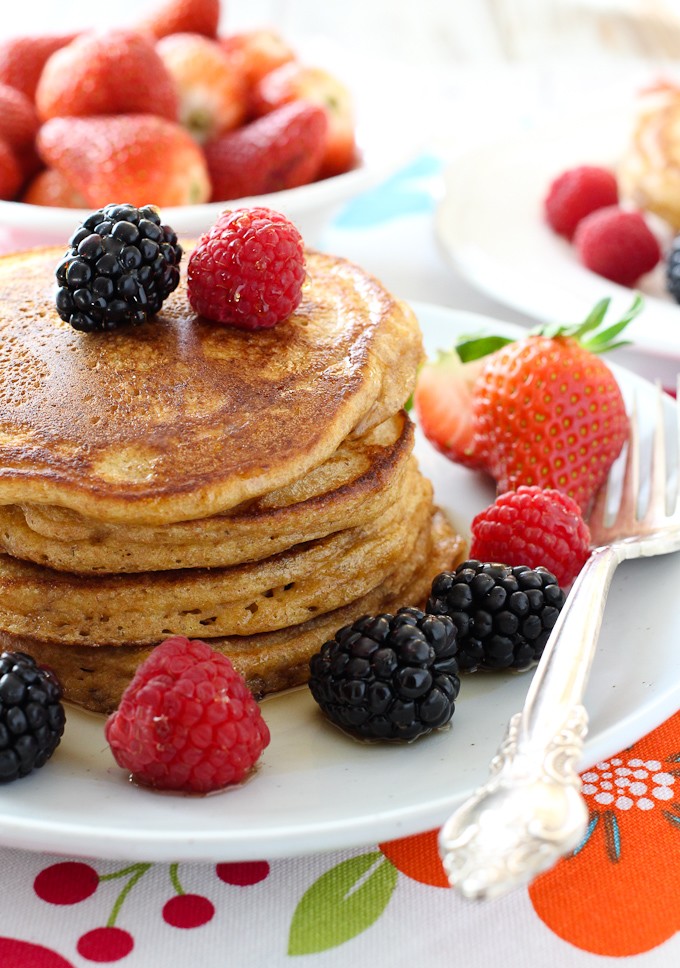 That's why I am always on the lookout for pancake recipes that are a bit healthier.
I say a bit healthier because even though these pancakes are made with whole spelt flour, I still wouldn't eat them every day. But hey, we all want something familiar and comforting every once in a while, right? So no, I am not going to deprive myself.
I love my pancakes with some maple syrup (and I mean the real stuff) or honey.
My trick to using less of any sweetener: serve the pancakes with fresh berries. Fresh berries are always so flavorful, you won't notice that you are using less syrup.
I also love to pair the spelt buttermilk pancakes with this 2-Ingredient Raspberry Sauce or this Healthy Blueberry Sauce.
To make the meal even more balanced, I always serve my pancakes with some nut butter.
Enjoy!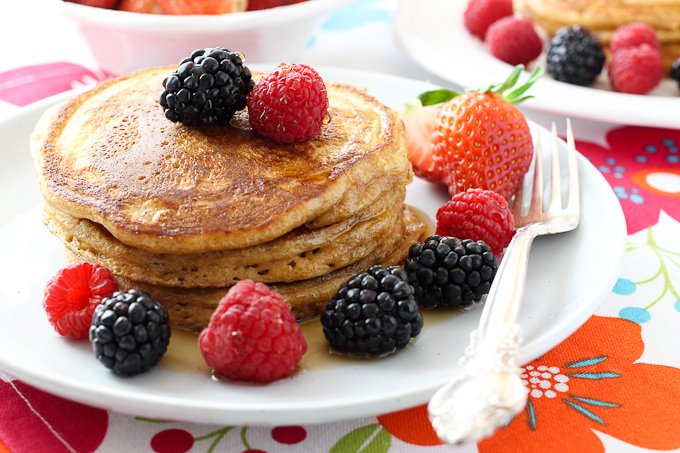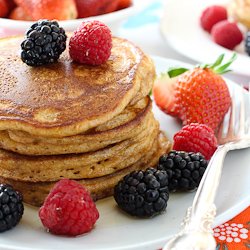 Buttermilk Pancakes Made with Spelt Flour
A simple recipe for Buttermilk Pancakes Made with Spelt Flour. These pancakes taste absolutely delicious served with some maple syrup and berries. Add a tablespoon of your favorite nut butter to keep the meal balanced.
Ingredients
1 cup buttermilk
2 free-range eggs, beaten
1 Tbsp olive oil + some more to oil the pan
1 tsp vanilla extract
1 1/4 cup whole spelt flour
1 Tbsp coconut sugar
1 1/2 tsp baking powder
1/2 tsp salt
Instructions
In a mixing bowl, add the buttermilk, eggs, olive oil and vanilla extract. Whisk until thoroughly combined.
In another bowl, add the whole spelt flour, coconut sugar, baking powder and salt. Mix well.
Add the dry ingredients to the wet ingredients and mix until the batter is smooth.
Oil a large frying pan with some olive oil and heat it over medium heat. Spoon the batter into the pan forming pancakes. When tiny bubbles appear on top of the pancakes, flip and cook for 2 more minutes or until cooked through.
Notes
1. If you use 1/4 cup of the batter for each pancake, you will get 8 pancakes about 4 inches in diameter each.
2. Nutrition information is a rough estimate for 2 of 10 pancakes without any toppings.
Recommended Products
As an Amazon Associate, I earn from qualifying purchases.
Nutrition Information
Yield

5
Serving Size

2 pancakes
Amount Per Serving
Calories

227
Total Fat

5.8g
Saturated Fat

1.4g
Trans Fat

0g
Unsaturated Fat

4.1g
Cholesterol

65.9mg
Sodium

463.8mg
Carbohydrates

35.8g
Fiber

4.7g
Sugar

7.9g
Protein

10.1g
Nutrition facts provided on this website are an estimate and not guaranteed to be accurate. Please see a qualified health care provider for personalized diet advice and make sure that each of the ingredients is allowed in your diet.