January is the perfect month for chilis. Just grab a bowl and cozy up on the couch with a soft blanket, warm socks, and (in my case) a dog who is determined to sniff the bowl. No, Toby, there is no meat in there because it's vegan.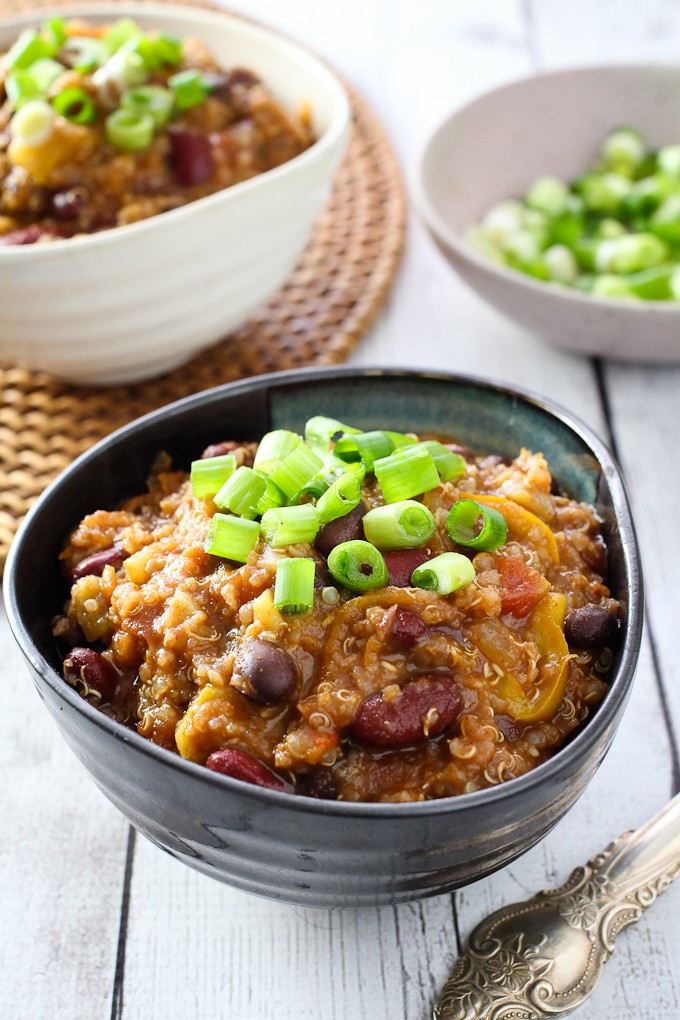 Another great thing about this Quinoa Chili with Veggies is that you can make a big batch and enjoy it all week long or divide it into portions and freeze in glass containers.
This chili is packed with veggies. If you have some veggie haters in your family, make sure to peel the zucchini and cut the bell peppers into a really small dice. This way, once the chili is done, you will hardly be able to notice them.
This recipe is also quite easy to prepare. Pre-cook the quinoa, chop the veggies, put everything in a pot and let it simmer. Really my kind of a recipe – easy, healthy and quick.
This chili tastes even better if you serve it with yummy toppings, such as avocado, chopped parsley or green onions. You can also add some Greek yogurt for a vegetarian option.
Enjoy!
Yield: 6 to 8 portions
Quinoa Chili with Veggies
Hearty vegan quinoa chili full of healthy vegetables. It's so flavorful and comforting that you won't miss the meat. It's also gluten-free.
Ingredients
1 cup quinoa
2 cups water
2 Tbsp olive oil
3/4 medium onion, thinly sliced
1 medium carrot, grated
1 yellow bell pepper, diced
1 red bell pepper, diced
2 medium zucchini, peeled and diced
1 can ( 796 ml / 28 oz) diced tomatoes
2 cups vegetable stock
1 can ( 540 ml/ 19 oz) black beans, rinsed
1 can ( 540 ml/ 19 oz) red beans, rinsed
2 Tbsp chili powder
1/2 Tbsp garlic powder
1/2 Tbsp paprika
1 tsp coconut sugar or regular sugar
salt and black pepper to taste
1 small square (1 X 1 inch) dark chocolate
Instructions
Rinse the quinoa and soak it in cold water for 30 minutes to 4 hours. Drain and rinse well one more time. This will help to get rid of any left-over saponin residue (a natural insect repellent) that gives quinoa a bitter taste.
Place the quinoa and 2 cups of water into a small saucepan. Bring to a boil. Reduce heat and cover. Simmer for 10 minutes or until quinoa is fluffy and has absorbed all of the liquid.
Heat the olive oil in a large pot. Add the onion and cook, stirring occasionally, until the onion is translucent, for about 3 to 4 minutes. Add the carrots and bell pepper. Mix well and cook, stirring occasionally, until the vegetables start to caramelize, for about 4 minutes. Add the zucchini and stir well.
Add the vegetable stock, diced tomatoes, black and red beans, and quinoa. Stir to combine and add the spices: chili powder, garlic powder, paprika, coconut sugar, and salt and pepper. Stir again to combine. Bring the chili to a boil. Reduce heat. Cover and cook for about 25 minutes.
Add the dark chocolate. Once the chocolate is melted, stir the chili well to combine.
Serve with your favorite chili toppings such as green onions, fresh parsley, avocado etc.
Notes
Nutrition information is a rough estimate for 1 of 6 servings.
Nutrition Information
Serving Size
1/6 of recipe
Amount Per Serving
Calories

335
Total Fat

8g
Saturated Fat

1.3g
Trans Fat

0g
Unsaturated Fat

6.4g
Cholesterol

0mg
Sodium

483mg
Carbohydrates

53.8g
Fiber

14.2g
Sugar

7.3g
Protein

15g
Nutrition facts provided on this website are an estimate and not guaranteed to be accurate. Please see a qualified health care provider for personalized diet advice and make sure that each of the ingredients is allowed in your diet.