This Quinoa Chili is delicious, satisfying, and comforting. Is it gray and rainy outside? No problem! Just grab a bowl of this chili and cozy up on the couch with a soft blanket, warm socks, and a movie.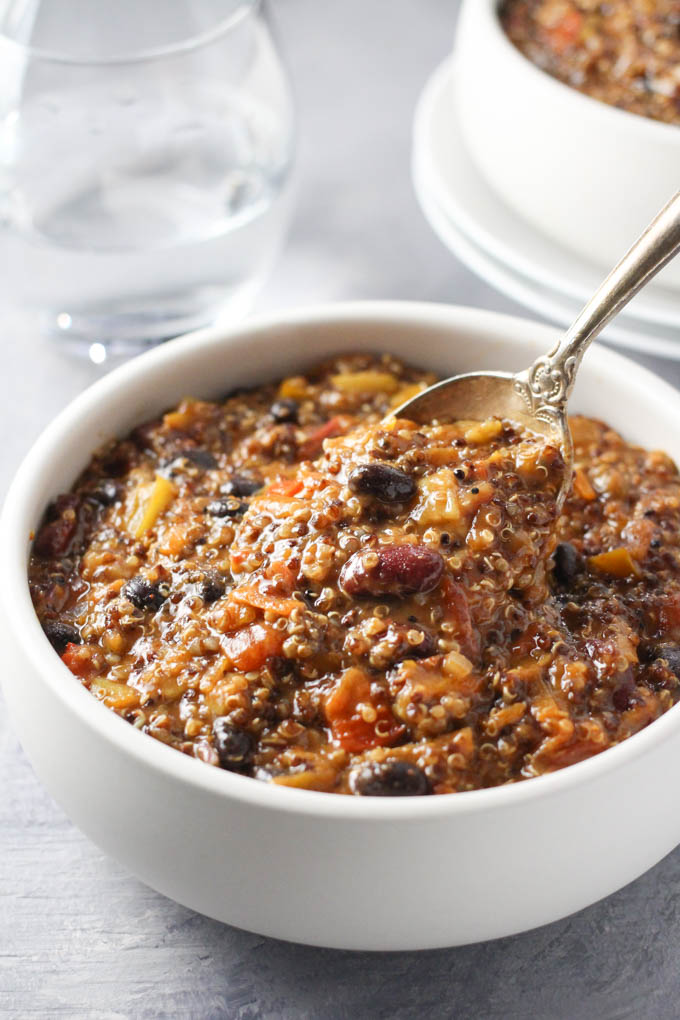 Why This Recipe Works
This Quinoa Chili is very easy to make.
It's made in one pot, so you won't have to wash any extra dishes.
This Quinoa Chili is made with simple ingredients that most people have in their fridge and pantry.
You can make a big batch on the weekend and enjoy it all week long or divide it into portions and freeze for later.
This chili is perfect if you have veggie-haters in your family because it's packed with vegetables, but you won't notice them once the chili is done.
Both vegans and meat-eaters will enjoy it.
Ingredients for Quinoa Chili
Here is the list of ingredients you will need to make a batch of this easy chili.
The Main Ingredients
Quinoa – Quinoa is perfect for a vegetarian chili because it's packed with essential amino acids. You can use white, black, or red quinoa or the tri-color quinoa blend for this recipe.
Vegetables – I like adding bell peppers, carrots, and zucchini to this recipe. You can also add celery or sweet potato if you like them in your chili.
Spices – Spices used in this recipe are chili powder blend, red paprika (use smoked paprika for that smoky flavor), cumin, and garlic powder. You can also add some Cayenne pepper if you like it spicy.
Beans – You can use any beans for this recipe. I recommend low sodium or no salt added canned black and red kidney beans.
Broth – Use low sodium or no salt added commercially prepared or homemade vegetable broth.
Diced tomatoes – Tomatoes are a must for chili. Use only low sodium or no salt added diced tomatoes to avoid sodium overload.
Dark chocolate – Dark chocolate is the best secret ingredient for chili. It adds depth and dimension to the flavor of this dish and balances the acidity of tomatoes.
The Toppings
Chili tastes even better when you serve it with yummy toppings. Toppings will allow your family members to customize their serving according to their taste and dietary preferences.
Healthy chili toppings can make chili even more nutritious and filling.
Here are a few chili toppings to try:
chopped scallions
diced avocado
guacamole
salsa
crushed red pepper
chopped tomatoes
diced red onion
chopped cilantro
sour cream
shredded cheese
lime wedges
sliced radishes
and more!
What to Keep In Mind When Cooking This Quinoa Chili
This quinoa chili is very easy to make and perfect for beginners.
When cooking it for the first time, keep in mind the following:
Use a large heavy-bottomed pot so that the ingredients cook evenly.
For a better mouthfeel, peel the zucchini and chop all the vegetables into small pieces.
Quinoa can soak up a lot of liquid. If you don't like your chili too thick, add a little bit more liquid to it.
How to Store and Reheat This Quinoa Chili
Store the chili in the fridge for up to 3 days or freeze it for up to 2 months.
The chili usually thickens when cold but should loosen up when heated. If it's still too thick for your taste, you can add a little bit of broth to it.
When reheating on the stovetop, make sure to reheat over low heat and stir from time to time. It's better to reheat small portions as opposed to reheating the whole pot.
The chili can also be reheated in a microwave.
More Comforting Recipes for Fall and Winter
For more healthy recipe ideas for cold fall and winter days, check out these easy recipes:
Quinoa Chili with Veggies
Yield: 6 to 8 portions

Prep Time: 15 minutes

Cook Time: 40 minutes

Total Time: 55 minutes

This one-pot quinoa chili is rich and flavourful. It's packed with vegetables and perfect for a healthy lunch or dinner. Make it on the weekend and enjoy all week long or freeze it for later.
Ingredients
2 Tbsp olive oil
1 medium onion, thinly sliced
1 medium carrot, grated
1 yellow bell pepper, diced
1 red bell pepper, diced
2 medium zucchini, peeled and diced
1 1/2 Tbsp chili powder
1/2 Tbsp red paprika
1/2 Tbsp cumin
1/2 Tbsp garlic powder
1 can ( 796 ml / 28 oz) low sodium diced tomatoes
4 cups low sodium vegetable stock
1 can ( 398 ml/ 14 oz) low sodium black beans, rinsed and drained
1 can ( 398 ml/ 14 oz) low sodium red beans, rinsed and drained
1 1/2 cup quinoa, rinsed and drained
1 tsp sugar
salt and black pepper to taste
1 small square (1 X 1 inch) dark chocolate
Instructions
In a large pot, heat the olive oil over medium heat. Add the onion and cook, stirring occasionally, until the onion is translucent and starts to caramelize, for about 3 to 4 minutes.
Add the carrots, bell pepper, and zucchini. Mix well, cover and cook, stirring occasionally, until the vegetables start to soften, for about 4 minutes.
Sprinkle the chili powder, red paprika, and cumin over the vegetables. Stir and cook until the spices become fragrant, for about 1 minute. Add the garlic powder
Add the diced tomatoes, vegetable stock, black beans, red beans, quinoa, and sugar. Stir to combine. Season with salt and pepper to taste. Bring the chili to a simmer. Reduce heat. Cover and cook stirring occasionally for about 45 minutes.
Take the chili off the heat. Place the dark chocolate on top of the chili. Cover and let it stand for 15 minutes.
Stir in the dark chocolate and serve with your favorite toppings.
Recommended Products
As an Amazon Associate, I earn from qualifying purchases.
Nutrition Information
Yield 7 Serving Size 1/7 of recipe
Amount Per Serving Calories 389Total Fat 8.6gSaturated Fat 1.8gTrans Fat 0gUnsaturated Fat 6.8gCholesterol 0.1mgSodium 354mgCarbohydrates 62.3gFiber 15gSugar 11.5gProtein 15.8g

Nutrition facts provided on this website are an estimate and not guaranteed to be accurate. Please see a qualified health care provider for personalized diet advice and make sure that each of the ingredients is allowed in your diet.

This recipe was first published on January 19th, 2015. It was updated to improve the cooking method and ingredient ratios in November of 2020.