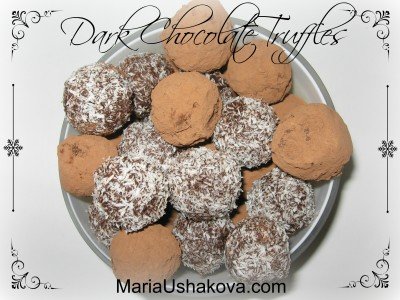 It's official – the holiday season is upon us.
I am starting to see blog posts and articles with tips and suggestions on how to stay healthy and fit during the holidays. I also wrote a post like that last year –check out How to Stay Healthy During the Holidays.
This year, however, I decided to do something different and put together the Healthy Holiday Treats series.
Over the next 4 weeks, I am going to share with you recipes for some mouth-watering desserts you can enjoy guilt-free.
The first recipe is for Dark Chocolate Truffles. They are a bit time consuming to make, but the result is totally worth it. You can store the truffles in an airtight container for up to one week.
Disclaimer: As with any dessert, please enjoy in moderation and don't eat all at once! 🙂
Yield: 30 truffles
Healthy Holiday Treats – Dark Chocolate Truffles
Dark Chocolate Truffles Recipe. These chocolate truffles are a healthy treat. Great to have on hand to satisfy your sweet tooth in a healthy way.
Ingredients
¼ cup coconut oil, melted
¼ cup honey
½ tsp vanilla extract
¾ cup chopped dates
½ cup chopped pecans
2 Tbsp chia seeds
1 ½ cup puffed quinoa cereal
Coating:
225 g dark chocolate, chopped
¾ cup unsweetened shredded coconut
1 cup cocoa powder
Instructions
In a medium saucepan, combine the coconut oil, honey, vanilla and dates. Place the saucepan over medium heat. Bring the mixture to a simmer constantly stirring with a wooden spoon to break down the dates and create a smooth paste.
Remove from the heat and add the pecans, chia seeds and quinoa cereal. Mix just until combined.
Place the dough in the freezer for about 15 minutes or until completely cool.
Using a tablespoon, measure even amounts of dough and roll in your hands to form balls. Place on a baking sheet lined with parchment paper and set aside.
Melt the dark chocolate over low heat.
Place the coconut and cocoa powder into 2 small bowls.
Using 2 forks to hold the balls, coat them first with melted chocolate and then roll in either the coconut or cocoa powder. Place on a baking sheet lined with parchment paper and chill in the refrigerator for about 20 minutes.
Once the chocolate firms up, take the truffles out of the fridge. The cocoa powder coated truffles will look better if you roll them in the cocoa powder one more time.