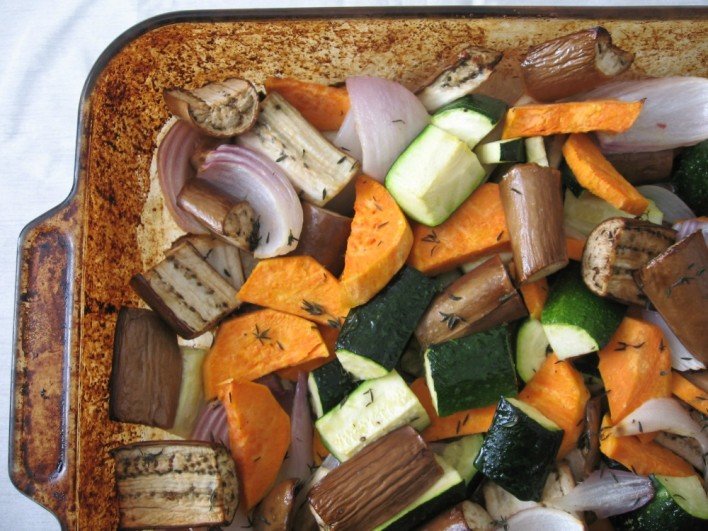 Last year, I shared with you a fun and easy roasted veggies recipe and I also wrote about several ways you can use them for preparing a variety of healthy dishes. You can check out that post here.
Today's recipe is slightly different; plus, the arugula pesto adds even more color and flavor.
Note: make sure to cut the sweet potato in smaller pieces because it takes longer to cook through compared to zucchini and eggplant.
Yield: 4 servings
Roasted Veggies with Arugula Pesto
Roasted Veggies with Arugula Pesto Recipe. Perfect as a side dish, in salads and sandwiches. Arugula Pesto can also be used with other dishes. Gluten-free.

Prep Time 20 minutes

Cook Time 40 minutes

Total Time 1 hour
Ingredients
For veggies:
1 large or 2 medium zucchini, cut into chunks
4 Chinese eggplants, cut into chunks
1 sweet potato, peeled and cut into bite-size pieces
1 red onion, peeled and cut into 5 to 6 pieces
2 Tbsp fresh or dry rosemary
1 Tbsp honey
1 Tbsp coconut oil + 1 Tbsp for baking dish
½ tsp salt
For Pesto:
1 cup baby arugula
½ cup parsley
¼ raw almonds
6 Tbsp olive oil
½ tsp salt
Instructions
Preheat the oven to 420F.
Oil a baking dish with 1 tablespoon of coconut oil and add the veggies to the baking dish.
In a small bowl, combine honey, coconut oil, and salt. Mix well.
Add the honey mixture and rosemary to the veggies and toss to cover.
Spread the veggies evenly on the baking dish. Make sure the veggies are spread in a single layer and are not too jammed.
Place the baking dish into the oven and roast the veggies for about 35 minutes or until cooked through.
To prepare the pesto, start by grinding the almonds in a coffee grinder. Then, place the arugula, parsley, ground almonds, olive oil, and salt into a blender and blend until smooth. Serve with roasted veggies.