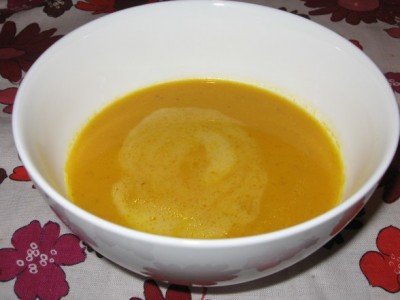 Cooking healthy meals is not hard or time-consuming – it's easy and so much fun!
Vegan Sweet Potato Soup with Coconut Milk
Ingredients
½ medium yellow onion, chopped
3 medium sweet potatoes, peeled and chopped into cubes
1 ripe pear, cored, peeled and chopped into cubes
1 carrot, peeled and chopped into cubes
1½ tsp ginger, peeled and finely chopped
900 ml low-sodium organic vegetable stock
2 cups water
1 cup coconut milk such as So Delicious Unsweetened Coconut Milk
salt and pepper to taste
Instructions
In a large pot, sauté the onions in olive oil over medium heat for 5 to 6 minutes until softened.
Add the vegetable stock and water.
Add the sweet potatoes, pear, carrot and ginger.
Bring to a boil. Reduce heat, cover the pot and simmer for 20 minutes or until sweet potatoes are tender.
Transfer the soup to a food processor or a blender and puree until smooth. Be careful, the soup is very hot! You might want to let it cool before you blend it.
Return the soup to the pot and stir in coconut milk.
Add salt and pepper. Bring to a boil, cover and simmer over low heat for 2 to 3 minutes.