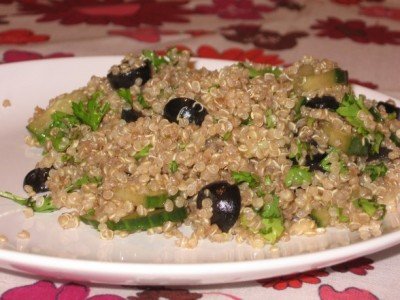 Cooking quinoa is very easy, just like cooking rice. I prefer to soak quinoa for about 20 to 30 minutes before cooking it to get rid of saponin that gives quinoa a bitter taste. Make sure to rinse quinoa well after soaking.
Yield: 4 servings
Quinoa Salad with Cucumber and Black Olives
Ingredients
½ cup quinoa, soaked and rinsed
1 cup water
½ cup fresh cilantro, chopped
½ English cucumber, chopped
1 can (375 mL) sliced black olives, drained
1 Tbsp balsamic vinegar
2 Tbsp olive oil
salt to taste
Instructions
In a small pot, add the quinoa and water. Add salt to taste. Bring the quinoa to a boil. Reduce heat. Cover the pot and let the quinoa simmer for about 10 minutes or until water is absorbed. Quinoa burns easily, so be careful. Let the quinoa cool to room temperature.
In a bowl, mix the quinoa, cilantro, cucumber, olives, balsamic vinegar and olive oil.