This blueberry frozen yogurt is refreshing, delicious, and creamy. It's refined-sugar free and naturally sweetened with maple syrup.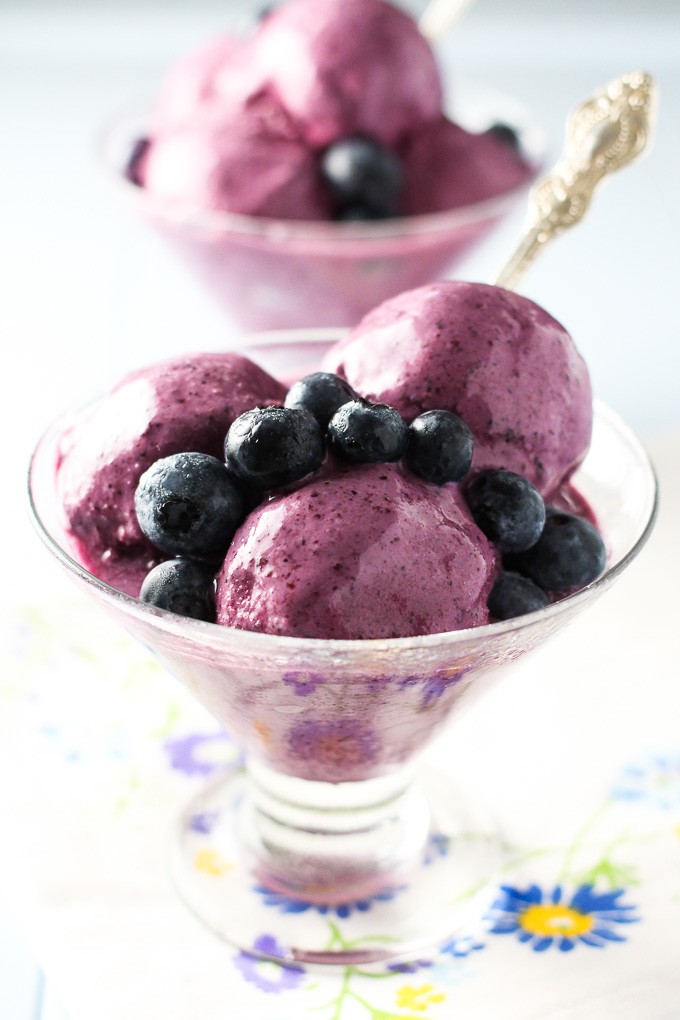 You only need four ingredients and a food processor or high-quality blender to whip up a batch of this blueberry frozen yogurt. And the best part is that you don't even need an ice cream maker and no churning is required.
In short, the method consists of freezing the ice cream or frozen yogurt base in a muffin pan.
After the yogurt is frozen, just pop the frozen yogurt cups out of the muffin pan and store them in a sealed glass container or plastic bag. Before serving, process the frozen yogurt cups in a food processor or blender until it's soft ice cream consistency and serve.
This method of making homemade ice cream or frozen yogurt also helps getting rid of ice crystals that usually develop in frozen yogurt if you keep it in the freezer for a long time. With this method, all ice crystals are broken by the food processor, so you don't notice them when eating the frozen yogurt.
You can also find the detailed instructions and step-by-step pictures of this no-churn method in this post –>>No-Churn Vegan Mango Ice Cream.
This blueberry frozen yogurt tastes great just on its own, and you can also serve it with some fresh blueberries, nuts, or a tablespoon of sugar free granola.
Enjoy!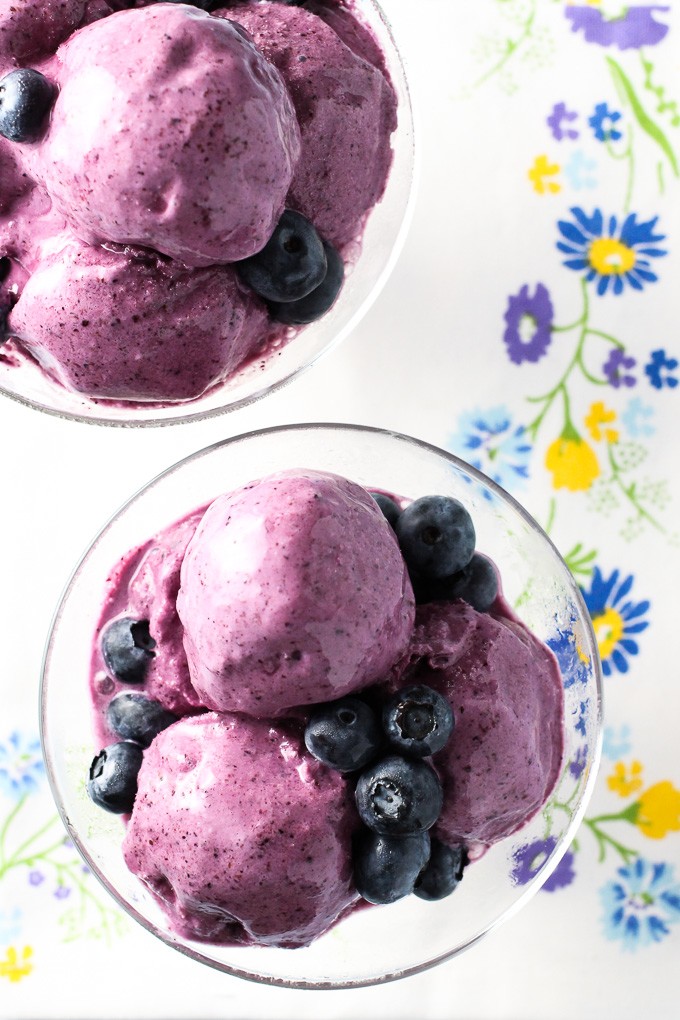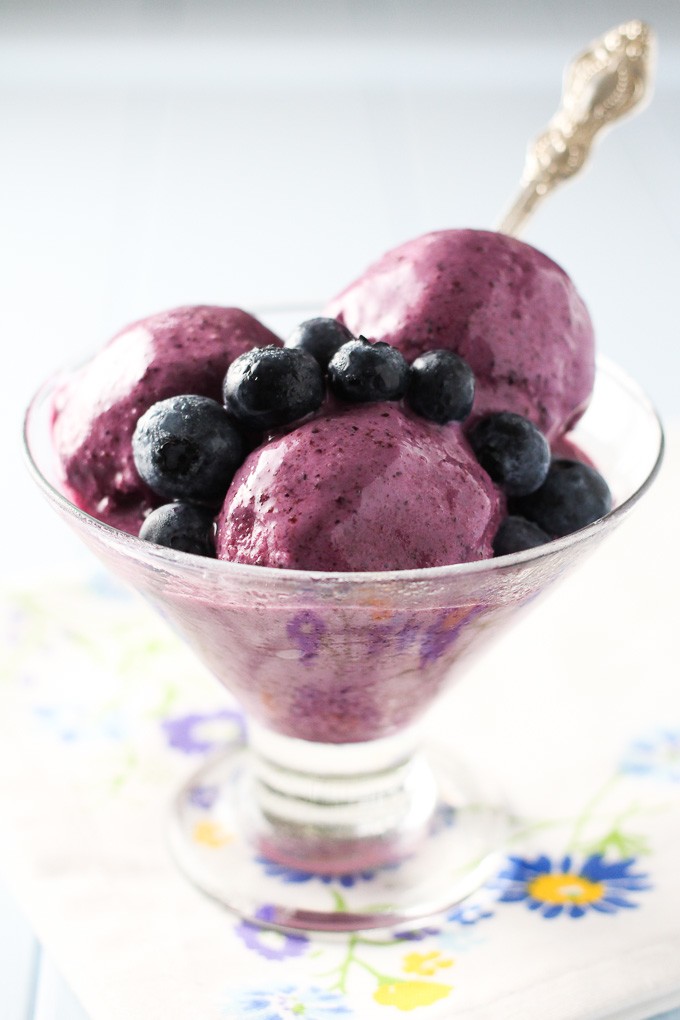 Blueberry Frozen Yogurt
Yield: 6 portions

Prep Time: 15 minutes

Additional Time: 3 hours

Total Time: 3 hours 15 minutes

This Blueberry Frozen Yogurt is really easy to make. You don't need an ice cream maker and no churning is required. Includes easy storage instruction to help you keep this frozen yogurt in the freezer for a few months.
Ingredients
2 cups fresh or frozen blueberries
3 cups 3% plain yogurt
1 tsp vanilla extract
1/4 cup maple syrup
You will also need:
12 cup muffin pan
food processor
Instructions
Place the blueberries into a food processor and puree until smooth.
Place the yogurt into a mixing bowl. Add the pureed blueberries, vanilla extract, and maple syrup. Stir until just combined.
Divide the yogurt mixture equally among the 12 muffin cups. Place the muffin pan into the freezer and let the blueberry yogurt freeze for about 3 hours (depends on the temperature in your freezer). You can also leave in the freezer overnight. Once the yogurt is frozen, pop the yogurt cups out of the muffin pan and store them in a glass container with a tight lid or in a sealed plastic bag.
Once ready to serve, place the blueberry yogurt cups into a food processor (break them up with a knife if needed before placing them into a food processor) and process until soft ice cream consistency. Scoop into bowls and serve.
Recommended Products
As an Amazon Associate, I earn from qualifying purchases.
Nutrition Information
Yield 6 portions Serving Size 1/6 of recipe
Amount Per Serving Calories 139Total Fat 4.2gSaturated Fat 2.6gTrans Fat 0gUnsaturated Fat 1.6gCholesterol 15.9mgSodium 58.5mgCarbohydrates 21.7gFiber 1.2gSugar 118.6gProtein 4.6g

Nutrition facts provided on this website are an estimate and not guaranteed to be accurate. Please see a qualified health care provider for personalized diet advice and make sure that each of the ingredients is allowed in your diet.