These cheesecake cupcakes are perfect as a snack or light dessert. They keep well in the fridge and can be made in advance to snack on throughout the week. The cupcakes taste absolutely delicious with this Healthy Blueberry Sauce.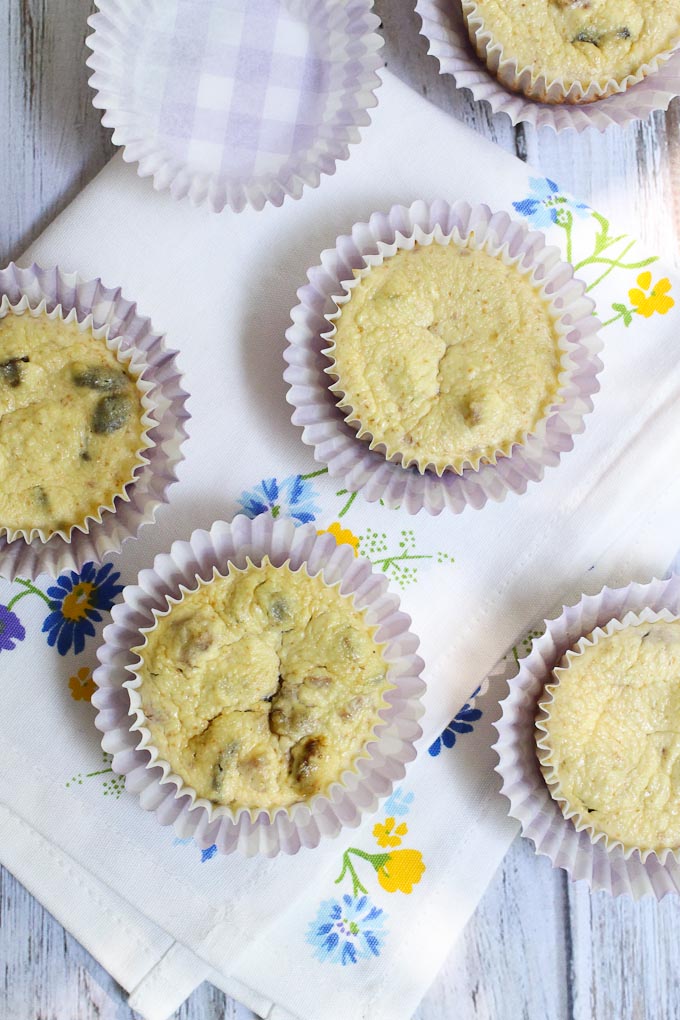 Cottage cheese has always been very popular in my family. My Mom makes sirniki which are similar to pancakes made almost completely from cottage cheese; my Dad makes crepes filled with cottage cheese; I remember my Grandma making vatrushki which is a pastry formed as a ring of dough with cottage cheese in the middle (not low GI at all).
When I go to Moscow to visit my parents, I always make tvorozhnaja zapekanka – a cottage cheese based dish similar to a crustless pie. I guess Russian cottage cheese and Canadian cottage cheese have different consistency because I've never been able to recreate this recipe at home.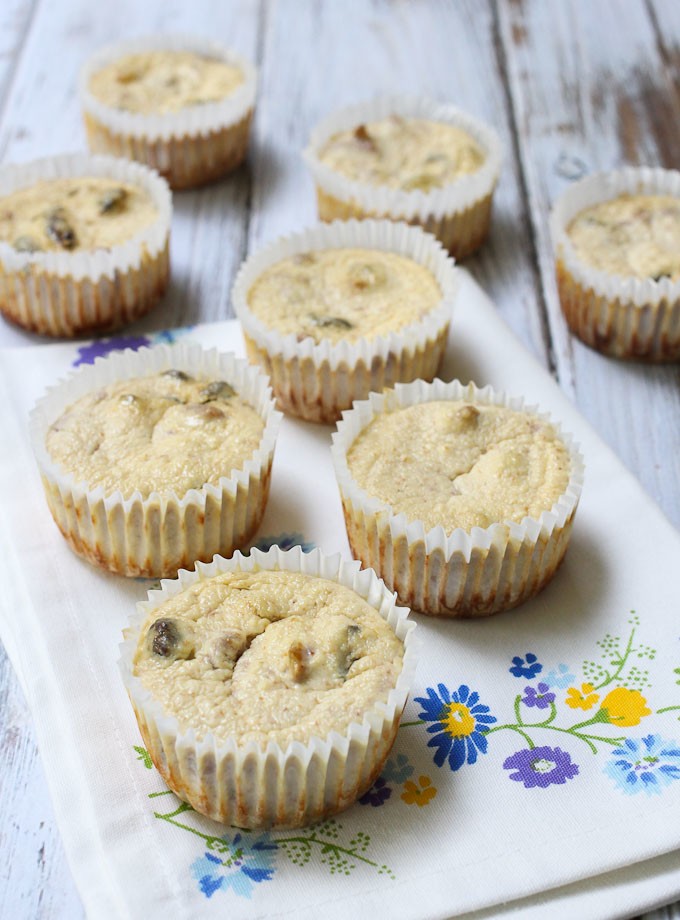 I kept trying because I publish a food blog and I should be able to come up with a recipe that works, right? And then, a few weeks ago, I had a brilliant idea – how about instead of a big pie I make small cheesecake cupcakes in a muffin pan. So, I tried and it worked! Awesome!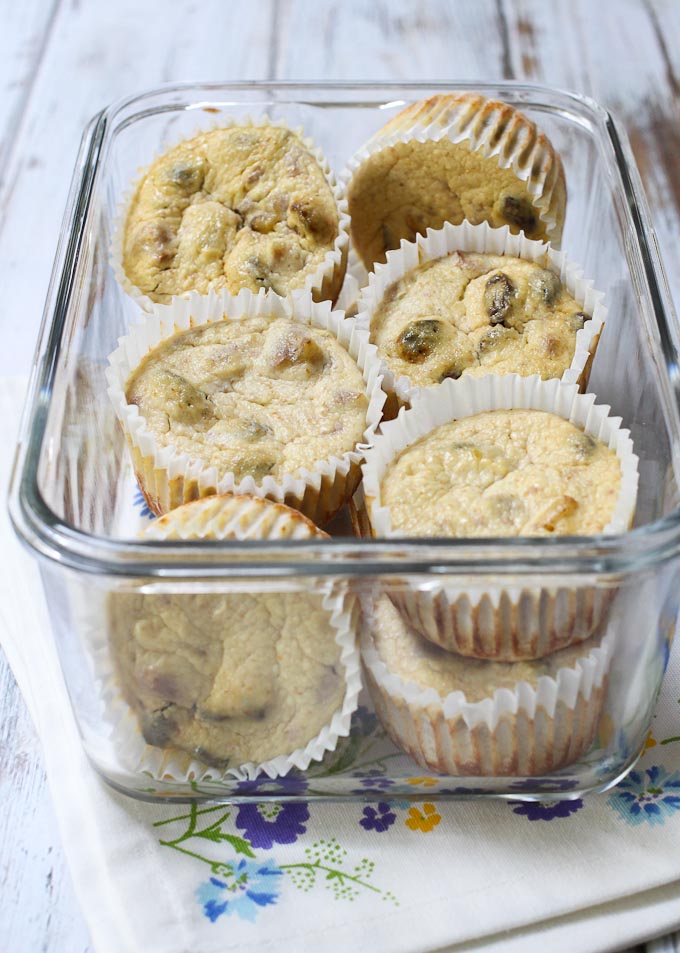 And one more very important thing, this recipe is based on the 500 gr package of pressed no salt added 0.5% cottage cheese such as Western which is available here in Canada and looks like this: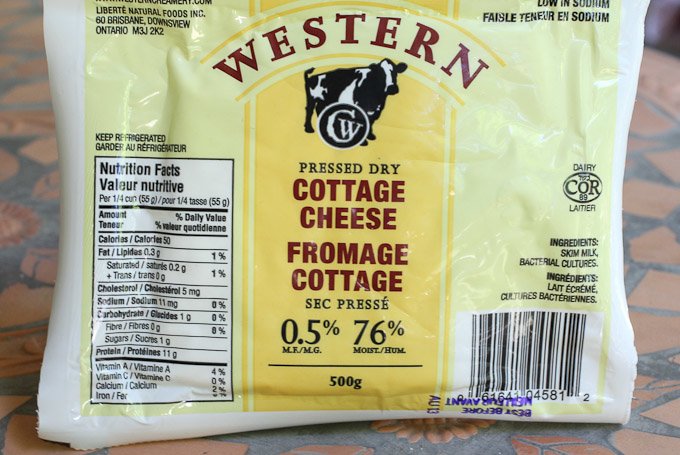 I hope you can find a similar type of cottage cheese at your end of the world.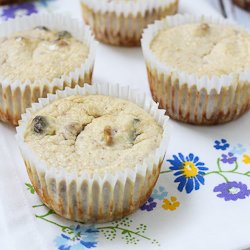 Light Cheesecake Cupcakes
Yield: 12 cupcakes

Prep Time: 15 minutes

Cook Time: 25 minutes

Total Time: 40 minutes

These cheesecake cupcakes are made with cottage cheese, whole-spelt flour, raisins, and walnuts. They are great as a snack or dessert and keep well in the fridge for a few days.
Ingredients
500 gr ( about 2 to 2 1/4 cups) pressed no salt added 0.5% cottage cheese such as Western
1/4 cup milk
2 Tbsp whole spelt flour ( whole wheat or regular all-purpose white flour also works)
1 Tbsp coconut sugar or other natural sweeteners
1 tsp vanilla extract
3 eggs
1/2 cup raisins
1/2 cup walnut pieces
You will also need:
Instructions
Preheat the oven to 350F.
Place the cottage cheese, milk, flour, sugar, vanilla extract, and eggs into a food processor. **See the Notes.
Blend the ingredients until smooth and well combined.
Transfer the mixture into another bowl (if your blender or food processor bowl is big enough, you don't need to do that) and add the raisins and walnut pieces. Mix using a wooden spoon until just combined.
Place the baking cups into a muffin pan. Spoon the mixture into the baking cups making sure it's divided evenly. Bake in the preheated oven for 25 minutes.
Once you take the muffin pan out of the oven, the cheesecake cupcakes will be very soft. Resist the urge to touch them because they will fall apart. Leave them in the muffin pan for about 40 minutes. Then carefully transfer to a cookie rack to cool completely.
The cupcakes keep well in the fridge for up to 3 days.
Notes
1. You would really need a good blender or food processor as it's very difficult to mix pressed cottage cheese with the other ingredients by hand.

2. Nutrition information is a rough estimate for 1 of 12 cupcakes.
Recommended Products
As an Amazon Associate, I earn from qualifying purchases.
Nutrition Information
Yield 12 Serving Size 1 cupcake
Amount Per Serving Calories 96Total Fat 3.8gSaturated Fat 1.2gTrans Fat 0gUnsaturated Fat 1.7gCholesterol 47.6mgSodium 170.5mgCarbohydrates 9gFiber 0.5gSugar 6.2gProtein 6.2g

Nutrition facts provided on this website are an estimate and not guaranteed to be accurate. Please see a qualified health care provider for personalized diet advice and make sure that each of the ingredients is allowed in your diet.