This German Cucumber Salad is budget-friendly, very easy to make and perfect for a family dinner, party or potluck. It's is so popular in Germany that they even have a Wikipedia page for it.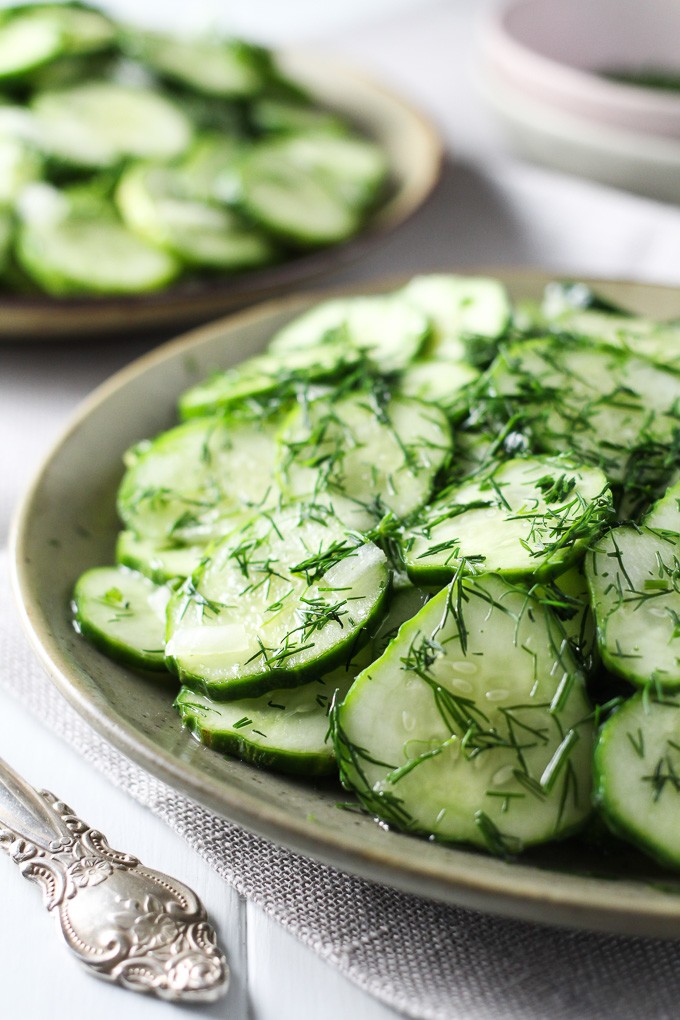 German Cucumber Salad can be prepared with sour cream or yogurt. My favorite version uses just white vinegar and oil.
I really like to use small field cucumbers for this salad when they are available in grocery stores here in Toronto. It usually happens in August and September. I love them because they are local, super fresh, crunchy and slightly sweet. But large field cucumbers or English cucumbers work great too. If you use large field cucumbers, make sure to peel them and also remove the seeds.

The salad tastes better when chilled so place it in the fridge for at least one hour before serving. And don't be afraid to make a big batch as this salad keeps well in the fridge and even tastes better as cucumbers ferment a bit.
Serve this German Cucumber Salad with a vegetarian dish, chicken or fish and don't forget to take the leftovers to work to eat for lunch.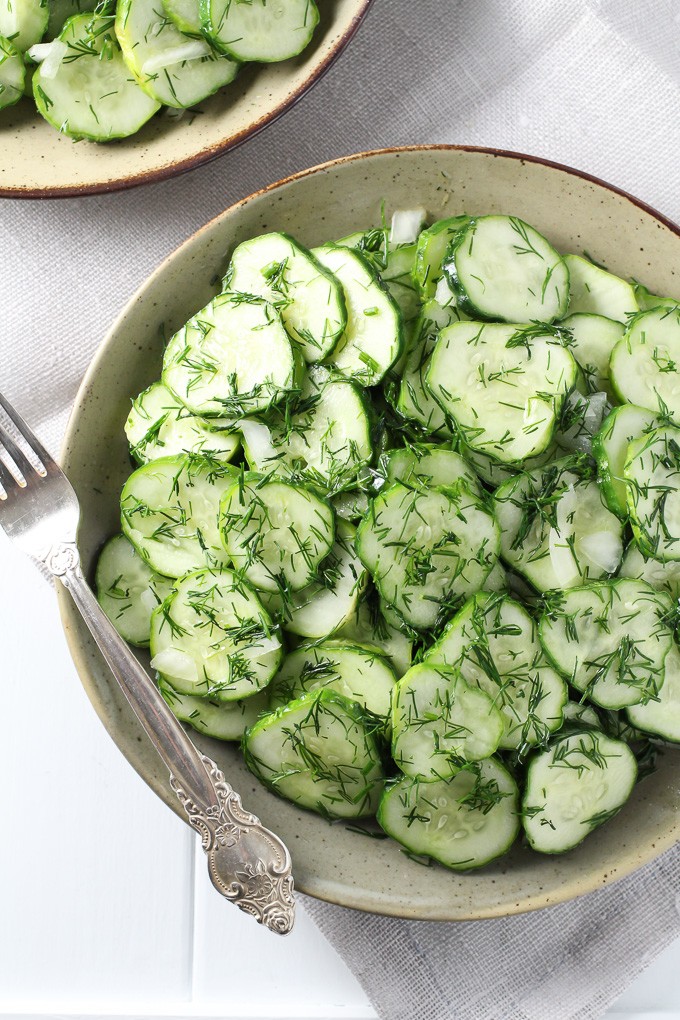 German Cucumber Salad
This simple German Cucumber salad is crunchy and refreshing. It's perfect for a family dinner or a party. The leftovers taste great too.
Ingredients:
2 pounds small field cucumbers (English cucumbers would also work), thinly sliced
1/2 large onion, thinly sliced
3/4 cup chopped fresh dill
4 Tbsp white vinegar
3 Tbsp olive oil
1 tsp sugar
salt to taste
Instructions:
Place the cucumbers, onion, and dill into a large bowl.
Add the white vinegar, olive oil, and sugar. Mix well to combine. Season with salt.
Refrigerate for at least 1 hour before serving.
Keeps well in the fridge for up to 24 hours.
Calories:
142
Fat:
10.5g
Saturated fat:
1.5g
Unsaturated fat:
9g
Trans fat:
0g
Carbohydrates:
11.7g
Sugar:
5.6g
Sodium:
11.4mg
Fiber:
1.6g
Protein:
2g
Cholesterol:
0g