By Maria Ushakova Leave a Comment
I really like ice cream but can't have much of the store bought kind because it usually has too much sugar. Even the healthier ice cream is still too sweet for me. In addition, I don't like to eat dairy with sugar because it pretty much guarantees me a blood sugar crush. So, for myself and for my friends here on the blog who prefer dairy-free food, I decided to make a vegan ice cream recipe.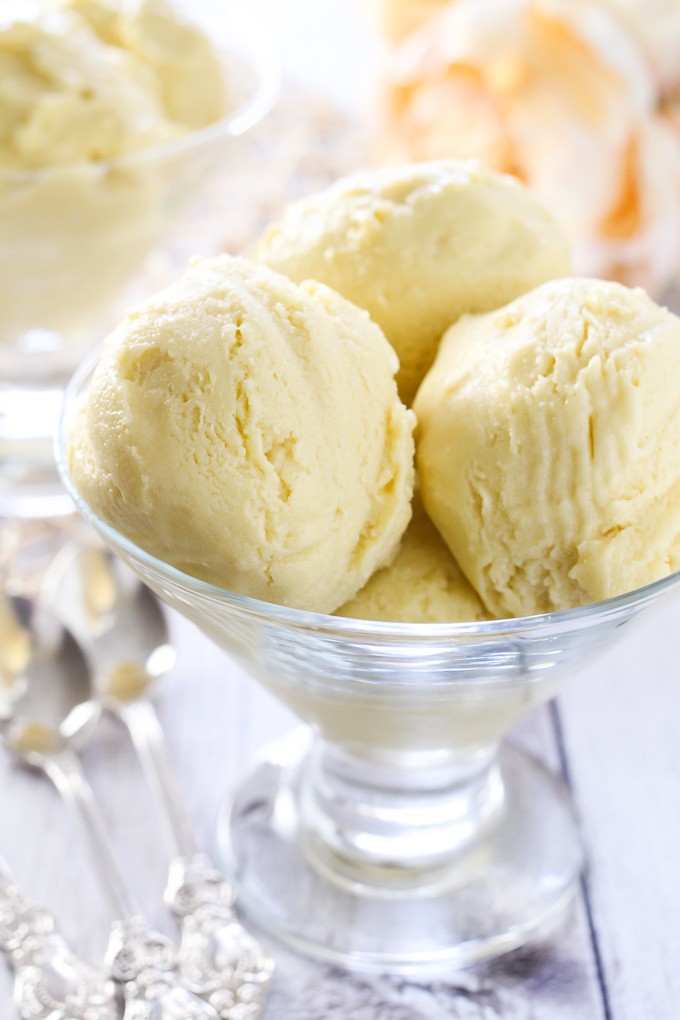 First, let me tell you about my No-Churn Ice Cream Method.
I don't have an ice cream maker so I really wanted to develop a better method for making ice cream without it. The usual instructions for making ice cream without an ice cream maker tell you to place the ice cream in the freezer and then churn it every hour to make sure that it freezes evenly without any ice crystals.
After trying to make ice cream following this method, I discovered that:
I had to be home for at least 6 hours so that I could mix the darn ice cream every hour;
It became really hard to mix the thing after about 3 hours;
And the worst part was – the next day it was frozen solid. There was absolutely no way for me to break off a piece. I left the ice cream out for abut 30 minutes hoping it would get softer. As a result, the ice cream melted at the edges as the middle remained completely frozen.
After all of that, ice cream making didn't seem like fun any more.
I am sure this method works for ice cream made with high fat dairy and sugar because both of these ingredients would prevent the ice cream from freezing completely. However, this method doesn't work for my dairy free recipe.
I didn't want to give up and after a few experiments, I decided to try freezing the ice cream in a muffin pan and it worked! This way the ice cream freezes much faster; it's easy to store and once you are ready to serve it, you can just take out as many ice cream cups as you like, quickly process them in a food processor and you have a smooth and silky ice cream ready to enjoy.
I am sure this method will also work for other ice cream recipes. Please let me know if you try it.
So, here is the method in more detail and please scroll down for the step-by-step pictures:
My No-Churn Ice Cream Method
Step 1. Divide the ice cream mixture equally among the 12 muffin cups. Place the muffin pan into the freezer and let the ice cream freeze for about 3 hours or until completely frozen (depends on the temperature of your freezer). You can leave it in there for a longer period of time, for example, overnight.
…
By Maria Ushakova Leave a Comment
These Yogurt Marinated Chicken Kebabs can be cooked on a grill as well as in the oven which makes them perfect for the BBQ season as well as other occasions. Marinating chicken in yogurt helps to tenderize the meat and prevents it from drying out when it's cooked. All the spices give the chicken a…