A few weeks ago, I explained the difference between glycemic index and glycemic load in this post. I also put together the very popular free Low Glycemic Cooking 101 page to make it easier for my readers to navigate low glycemic recipes available on my blog.
In today's post, I am addressing the next question: why should you care about your blood sugar levels even if you are not diabetic? Why is it important to keep your blood sugar stable?
The answer is simple:
high blood sugar can damage the lining of our blood vessels; persistently high blood sugar levels can also cause a number of degenerative diseases;
low blood sugar levels trigger the release of the stress hormone cortisol.
For these reasons, our brain is programmed to keep our blood sugar within a narrow range.
As soon as the blood sugar goes over the normal level our brain declares an "emergency" and the hormone insulin goes to work to remove the excess blood sugar from the blood.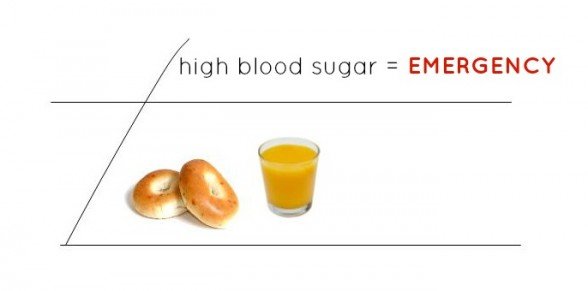 At first, insulin takes the sugar to the muscles and the liver where it is stored as glycogen. Unfortunately, the storage capacity of our muscles and liver is limited, so as soon as they are full insulin starts transporting the excess sugar into fat cells. This is like a huge party for the fat cells. They are happy to take all the excess sugar that is given to them; they expand and multiply!
In addition to feeding fat cells, high blood sugar also causes the blood sugar to drop.
This is confusing, isn't it? How can high blood sugar cause the blood sugar to drop? As I mentioned above, the body produces insulin to clean up the excess blood sugar from the blood so when our blood sugar is high we end up with a lot of insulin in our blood and this can push the blood sugar below the normal level.
Once our blood sugar drops below the normal range, our brain declares another "emergency".
The brain works on glucose so when the blood sugar is low, the brain thinks it's starving. It releases a stress hormone called cortisol. This hormone is supposed to force you to go and find some food to feed your brain.
Cortisol is the reason you might feel irritable, dead tired, light headed and/or uncontrollably hungry as well as crave high glycemic carbohydrates.  Cortisol is also a fat storing hormone because it helps make glucose and bring the blood sugar up when it drops too low.
These daily ups and downs of blood sugar are known as blood sugar roller coaster and lead to the condition called insulin insensitivity.
The first signs of insulin insensitivity are an expanding waist size and resistance to weight loss.
The good news is that eating in a way that keeps the blood sugar balanced can help to stop and even reverse insulin insensitivity. A very pleasant side effect of this is a gradual weight loss
The most important point I am trying to make here is this: carbohydrates are not bad, we absolutely need them to be healthy; the hormones insulin and cortisol are not bad, we can't live without them; we even need our fat cells (those nasty bastards that multiply like crazy) to keep us warm and help us produce other sweet substances like sex hormones, for example.
It's the total imbalance of the systems that makes us gain weight and feel awful.
When we keep our blood sugar stable by eating low-glycemic whole foods, we provide our body with the steady supply of energy; our hormones are in check – we don't produce too much or too little of either insulin or cortisol; we feel happy; we get glowing skin and an even skin tone; we begin to shed the extra pounds naturally and effortlessly.
In other words, life is much better when our blood sugar is stable :).