Beets are one of my favorite vegetables. I know many people say that they don't like beets but I am convinced that they just haven't tried beets that were prepared properly.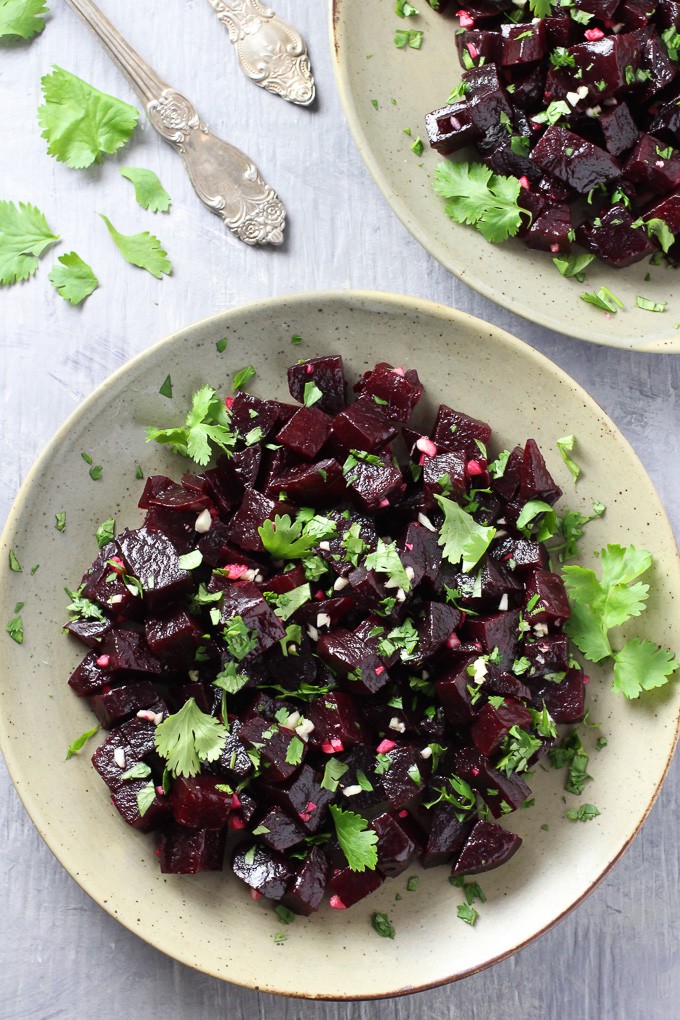 Beetroot has a medium glycemic index of 64 but is super low on the glycemic load scale with the GL of 4 (we have already talked many times about how glycemic load is more important than glycemic index.)
Beets are usually very inexpensive and keep well in the fridge.
You can buy beets with greens still attached or just the bulbs. If you buy a bunch of beets with greens, make sure to remove the greens because they go bad fast. Beet greens can be used in soups, or cooked the way you would cook other greens such as collard greens or kale. Raw beetroot and beet greens make a great addition to fresh pressed juices.
There are three ways to cook beetroots. You can roast, boil or steam-roast them. I listed all the instructions in the recipe below. My favorite way of cooking beets is steam-roasting them.

To make sure that the beets are fully cooked insert a knife or a fork into the beetroot. You should be able to easily pierce them and your knife or fork should very easily slide back out.
Beets take a long time to cook. That's why it's better to choose medium sized beets and make sure all the beets you are cooking are similar in size. This way they will be done all at the same time.
I usually leave them to cool in the oven because beets are very hard to handle when they are hot. Also, make sure to wear gloves if you don't want any stains on your hands.
There are so many ways to serve cooked beets that I probably could write a cookbook just with beet recipes. To start, try this Mediterranean Beets with Garlic and Olive Oil. It's very easy to make and so good for you!
Enjoy!