Picture this: you come home on Friday night and there is nothing for dinner and you make a healthy and absolutely delicious dinner in under 30 minutes.
Don't believe me?
Keep reading because I am about to show you how you can make it happen.
Ready. Set. Go!
Step 1 – takes about 5 minutes:
Start by turning on the oven and setting the temperature to 350F. Then, oil a baking dish with 1 tablespoon of olive oil.
In a small bowl, combine the dried basil, dried oregano, and garlic powder.
Rinse the salmon fillets and pat them dry with a paper towel. Rub the filets with 1/2 tablespoon of olive oil and season with salt.
Place the fillets on the baking dish skin down. Rub the herbs mixture evenly on the pink side of the filets.
Now you can place the baking dish in the oven.
Step 2 – takes about 10 minutes:
Place a pan on the stove and add 1 tablespoon of olive oil. Set the heat to medium-low.
Chop the onion and add it to the pan. Increase the heat to medium. While the onion is cooking, chop the zucchini. Don't forget to occasionally stir the onion.

Once the onion is translucent, add the zucchini and tomatoes. Season the vegetables with salt and let them cook.
Step 3 – takes about 10 minutes:
Well, step 3 is easy because you don't really need to do much. Just stir the veggies every once in a while. Set the table and maybe open a bottle of wine.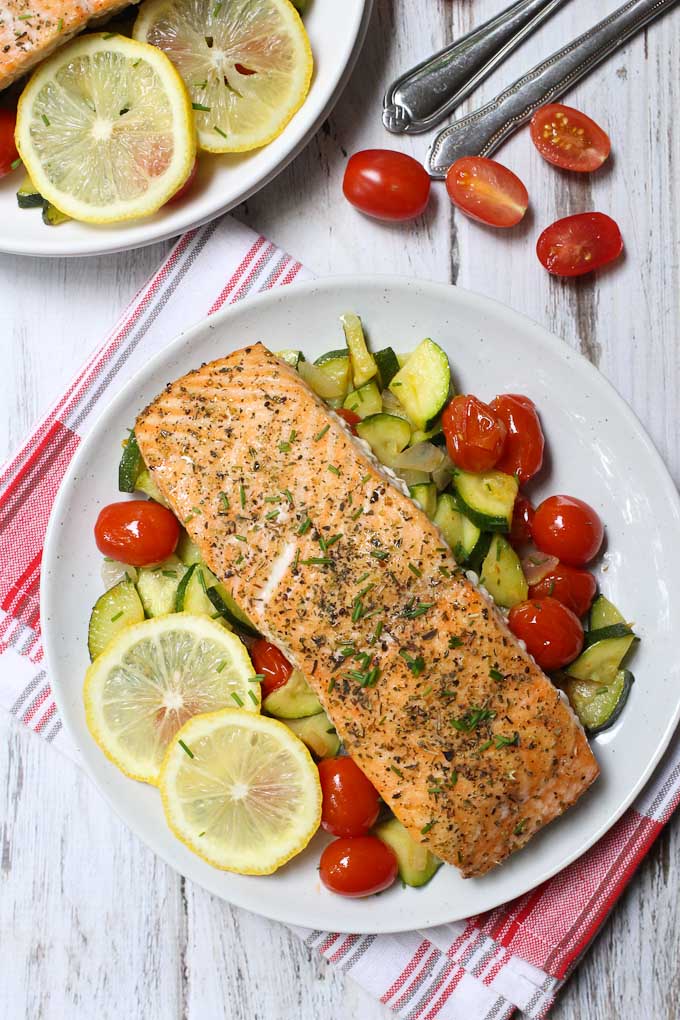 Now, we are about 25 minutes into making this Roasted Salmon with Veggies and the fish and vegetables should be almost ready.
The next step is to enjoy the dinner. There is no time limit for this step: enjoy the food, have a conversation, relax…