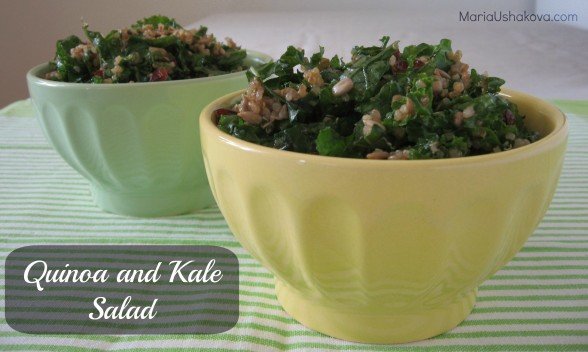 We are finally having some spring weather here in Toronto – it's about time!
As we transition into the warmer time of year, we don't have an appetite for hearty soups and stews anymore. Instead, we slowly switch to lighter dishes. The recipe I am sharing with you today  is perfect for this time of year. It has only 4 ingredients (plus the dressing) and is full of protein, awesome nutrients, and healthy oils.
If you find raw kale a bit bitter and tough, make sure to massage it with your hands once you chopped it. It helps to break down fibers and makes this green softer and silkier.
I developed this Quinoa and Kale Salad for my upcoming cookbook. But the salad was so good that I decided to share the recipe with you right away :)! If you like this recipe and want to learn more about healthy low glycemic cooking make sure to subscribe to my email updates, my email subscribers will be the first to find out about the book release!